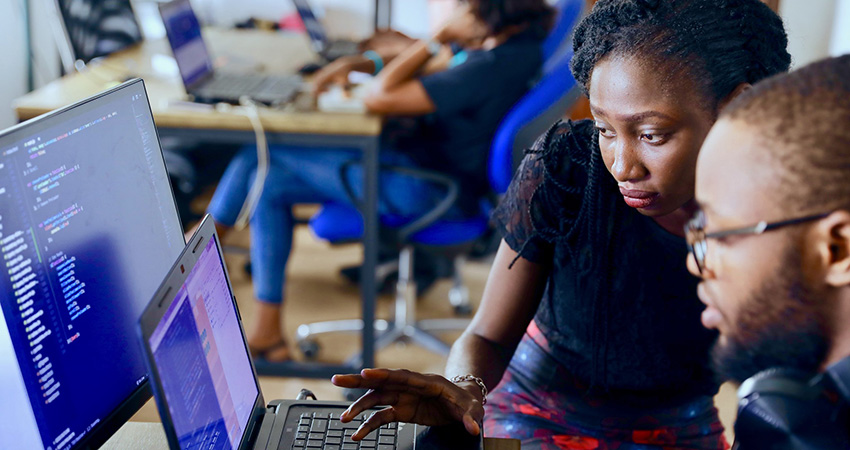 Stories
Bypassing the Campus for a Career
Apprenticeship programs encompass more than just prep for a skilled trade job.
This article was originally published by Ozy.
In the United States, the cost of college is reaching new levels. Student debt surpassed $1.5 trillion in 2018, and the Department of Education estimates that come 2023, 40 percent of borrowers won't be able to pay back their student loans. The rising cost of tuition, among other factors, is leading many to believe that a four year degree might not be for everyone.
Enter the rise of job-training programs. These programs which focus on skill-based training and preparation for the working world are proving that there is more than one way to succeed in today's workforce, especially in high-demand fields such as technology.
Here we take a look at two alternatives to secondary education, highlighting what makes these job-training programs so appealing for those eager to jump into a full-time career.
Apprenticeships
Apprenticeships offer full-time, on-the-job training that lasts between one and six years. And while starting salaries for apprenticeships may be lower at first, they pay off in the long run. According to a report by Mathematica Policy Research, those who complete apprenticeship programs in the United States earn an average of $250,000 more in their lifetime than those who do not. And technology-focused apprenticeships may even pay off in the near term paying up to 50 percent more annually.
One organization that has found great success with the apprenticeship model is Apprenti, a Registered Apprenticeship Program whose mission is to provide a pipeline for underrepresented groups in technology to help them gain training, certification and job placement. In fact, JPMorgan Chase recently announced a partnership with Apprenti, which includes year-long paid apprenticeships for veterans in Columbus, Ohio beginning in 2019.
A group of veterans will attend Java training prior to their apprenticeship and receive specialized training, a dedicated mentor and the opportunity to network with other professionals during their time at JPMorgan Chase. The strongest performers may also be offered a full-time job upon completion.
Apprenticeship programs like this are not only a means for companies to source employees, but also a way to diversify the talent pool especially in highly competitive fields such as technology. And for JPMorgan Chase, this collaboration with Apprenti is just one of the many technology apprenticeship programs that the company offers globally, with others originating in cities like London, Glasgow, Houston and Singapore.
Boot Camps
More of a traditional classroom experience, skill-based boot camps can last anywhere from two weeks to a few months. These boot camp programs are typically more intensive than apprenticeships, as they focus on training for one specific skill or task. And according to the Council on Integrity Results Reporting, 80 percent of participants in coding-specific boot camps find relevant jobs with an average starting salary of $70,000.
While boot camps are most commonly open to high school graduates and above, many individuals looking to change careers also end up choosing boot camps over further education, such as graduate school. Christopher Nobles, a software engineer at JPMorgan Chase, was working as a social worker when he found Zip Code Wilmington, a Java coding boot camp that prepares individuals with minimal coding backgrounds for entry-level software engineering jobs. "Zip Code was an opportunity that I'd never seen before," Nobles said. "I began to realize that a technology career was possible."
Like many boot camps, Zip Code funnels talent to affiliated companies including Nobles' current employer, JPMorgan Chase. "We need to ensure that we have employees with different perspectives that can challenge each other," said Jennifer McDermott, executive director of global technology diversity, equity & inclusion at JPMorgan Chase. "Job training programs are a great way to bring new ideas to the table."
Be it through a coding boot camp or a software engineering apprenticeship, these pathways are helping many individuals including those who may be underrepresented in high-demand fields such as technology join the vibrant American economy. And some are doing it without ever having stepped foot in a college classroom. Imagine that…
---
To read more stories like this, sign up for the OZY and JPMorgan Chase newsletter.