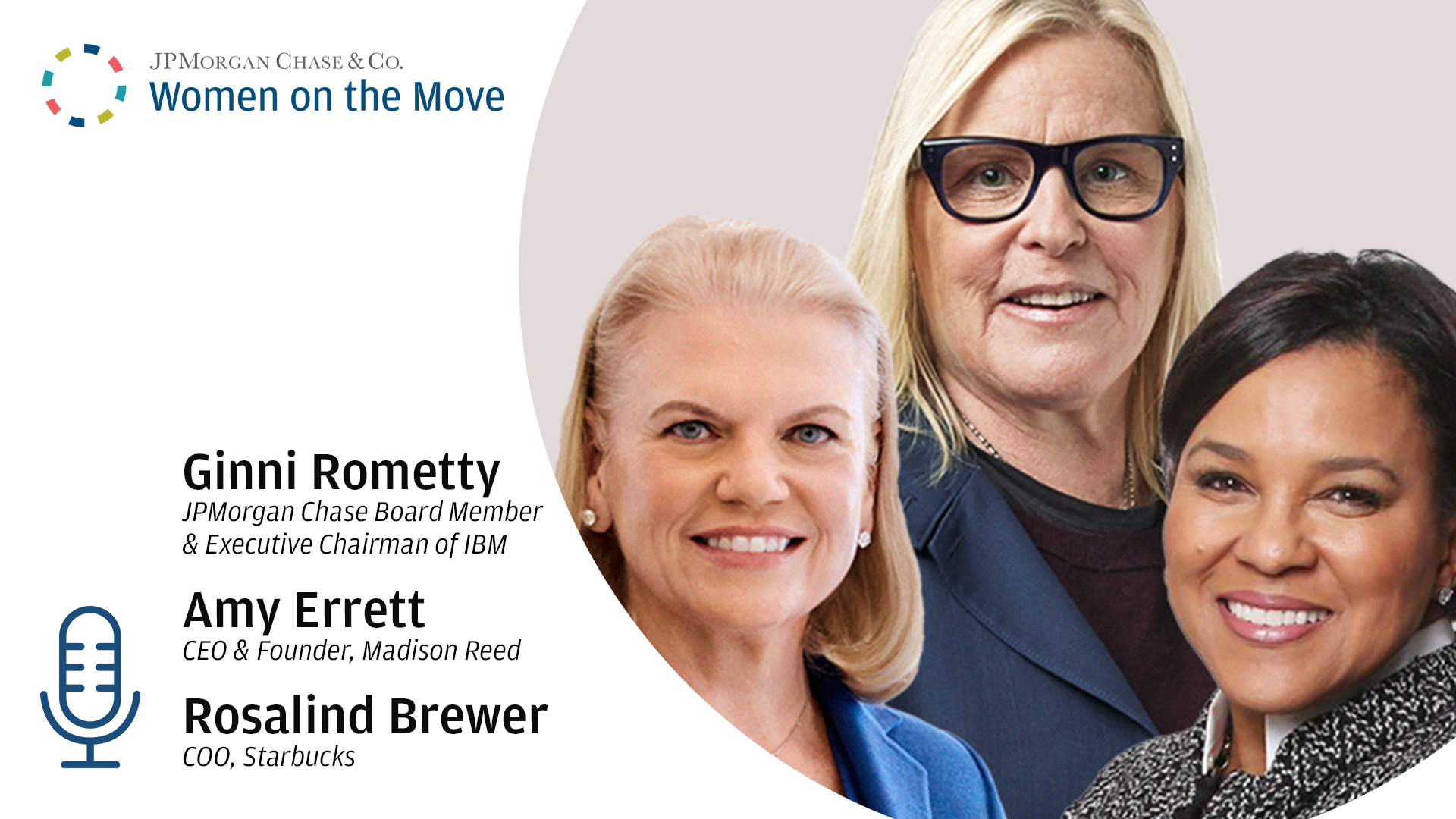 Stories
Business Strategies from IBM's Chairman, Madison Reed's CEO, & Starbucks' COO
In this episode of Women on the Move, three high-ranking executives weigh in on how they've grown their careers and helped their companies navigate the challenges of COVID-19.
IBM Chairman Ginni Rometty Talks Hiring Strategies & Growth Trajectories
Marianne Lake, CEO of Consumer Lending at JPMorgan Chase, sat down with Ginni Rometty, Executive Chairman of IBM and JPMorgan Chase Board member to discuss Ginni's successful career. In this conversation, Ginni explains how she was able to help IBM's 400,000 employees go remote in just two days after the COVID-19 crisis first descended. She also discusses refocusing IBM for the cloud-computing era, offers advice to listeners on career choices, and explains why she now insists on hiring people with a propensity for learning.
Easing Employee Anxiety with Amy Errett, CEO of Madison Reed
Madison Reed was founded to transform the hair color industry, changing the way women color their hair at home as well as offering breakout color bars to shake up the salon structure. The company's CEO, Amy Errett, explains why she chose to throw out the playbook when COVID-19 hit. She talks about finding the silver lining to a global crisis, and reminds us all that we can learn from failure and shouldn't be afraid to take risks.
Safety at Starbucks with the Company's COO, Rosalind Brewer
Phyllis Campbell, Chairman of the Pacific Northwest for JPMorgan Chase, interviews Rosalind Brewer, Starbucks COO about how the coffee giant handled employee and customer safety in the face of a deadly virus. Rosalind's company was planning for the pandemic weeks ahead of many, since it has operations in China. She and her team focused first on how to keep baristas safe, letting science lead their decisions and working closely with local health officials. She also touches on Starbucks' stance on racial and social justice, and how the company has responded to racism in its own stores.
View Transcript

(updates content above)
Hide Transcript

(updates content above)
Ginni Rometty:
Growth in comfort will never coexist. So embrace that thought. If you're going to grow, you will always be uncomfortable. And in fact, if you find yourself too comfortable, go do something new.
Sam Sapperstein:
Welcome back to season four of the Women on the Move Podcast. I'm your host, Sam Sapperstein. Women on the Move is a global initiative at JPMorgan Chase, designed to help women grow their businesses, improve their financial health and build their careers. This season, we're taking you inside JPMorgan Chase's annual women's leadership conference, where we addressed critical issues affecting women. Our diverse speakers shared leadership lessons and career tips, and taught us how to take care of our wellbeing. Overall, they had one thing in common, optimism about the future and unwavering positivity. It's a fascinating season you won't want to miss.
Sam Sapperstein:
In today's episode, we have a fantastic lineup of female business leaders who graciously shared their experiences and wisdom at Women's Leadership Day. What struck me the most through their conversations, was the relate-ability of their experiences. While they've each risen to the highest ranks in corporate America, their individual experiences and challenges are remarkably similar to ours. I want to start this episode with one of my favorite conversations from our event, Marianne Lake, the CEO of Consumer Lending at JPMorgan Chase, sat down with Ginni Rometty, the Executive Chairman of IBM and our newest board member. Jenny has transformed IBM and ushered it into the era of cloud computing and artificial intelligence. I know you'll enjoy this conversation as much as I did.
Marianne Lake:
Hi everyone. I'm Marianne Lake. I'm the CEO of Consumer Lending at JPMorgan Chase and one of the co-founders and executive sponsors of Women on the Move. And so I am absolutely thrilled today to be here to discuss with you the background and leadership skills and experiences of our newest board member here at JPMorgan Chase and the Executive Chairman of IBM, Ginni Rometty. So Ginni, thank you so much for joining us today for what I know is going to be a really interesting discussion.
Ginni Rometty:
My pleasure to do it. Thank you Marianne. Thank you for asking me.
Marianne Lake:
I thought maybe we would start with just a bit of context about how you got to that esteemed position, and maybe get a bit from you about your background and what some of the challenges and hurdles were as you were progressing through that journey.
Ginni Rometty:
It's a funny thing. Someone recently asked me to pick one word to describe 2020. The one word I picked was perspective, because I feel amongst this year, it's been some time to sit back and reflect. And you said the word hurdles, but time does give you by the way, is perspective. And to me now, all those hurdles, they really were just opportunities to grow. And I'm not sure they ever felt like hurdles to me, but I began over time to see them, as each time I hit a bump, it was a chance to really grow and become something else. And so I began to get quite comfortable with those kinds of things. When I was a teenager, one day, my father just up and left my mother and I was one of four children in the family, and my mother had not gone to college.
Ginni Rometty:
Had never worked a day in her life, four kids, no money, no home, we were on food stamps, as a result of all of this. And the happy ending to that story, when you say perspective of your life, I mean, it did really teach me. My mom said, "Well, this isn't going to be the ending of this story." She went back to school, she got a degree, she got a job. We all did fine, but it did teach me, and this doesn't shape me for the rest of my life. This point about no one will ever define who you are, but yourself.
Ginni Rometty:
So I learned if you want a career, you should do something you're passionate about. And that took me then to IBM. But I kind of end my answer where I began with you, Marianne. I think every hurdle I crossed then, I really got comfortable with a saying that many people heard me say that, "Growth and comfort, they never coexist." And so if you're going to grow, you will always be uncomfortable. And in fact, if you find yourself too comfortable, go do something new because then you know, you're learning and growing at the same time.
Marianne Lake:
I think perspective is a great word. When you think not just about how you have made your journey, but also I agree with you, 2020 has been a really challenging year in many, many ways and perspective is everything. So if we fast forward just a tiny bit then to when you became the CEO of IBM and embarked upon a pretty, very significant transformation in fact, a transformation that was really genuinely end to end ranging the full gamut of portfolio, all the way through to people and culture. And maybe you could take the audience on a journey about what was the impetus and the genesis of the need for such a sort of full scale transformation, and how did you go about thinking that through and executing on it?
Ginni Rometty:
You see so many companies come and go and it's dynamic and it's vibrant and it changes, and it moves at a very high speed. When I took over in 2012, then it was my job, as you said, it is arguably the most significant transformation we've ever had to undertake, because I had to refocus the company for cloud and data, for the era of cloud and data. And so that meant changing the portfolio, which in my tenure, what that meant was first to divest of businesses that wouldn't be part of the future. But, in the end it was a transformation about becoming the number one hybrid cloud company, for the enterprise and having returned the company to growth.
Marianne Lake:
It makes me think of something that we talk about quite often here, which is there's a difference between leadership and bold and brave leadership. And so just one question as you can now take a moment to look a little backwards on the process. Is there anything that you learned that means you would have done something differently? I know with every challenge, you see every challenge as an opportunity.
Ginni Rometty:
Yes, it reminds me of a saying that, "Revisionist history is always accurate here." One of my first lessons, and I think it pertains to anyone running a business, especially in fast changes. I would coin it as, "Be the best IBM," because the times I found I got in trouble with an intensity to want to change the company, is if I got too far away from the core of what the company does. But, the most important lesson I learned out of that was, stop hiring people for their hard skills. But because the industry is changing so fast, you have got to hire people that have a propensity to learn. That opened up then, avenues to so many more people in this country and in the world that we could hire, because it wasn't determined by a label on their forehead or a degree they happened to have. It was more about, they could acquire a skill in any other way, and that led us to a really big spurt in diversity, equity & inclusion. I didn't know it at the time, it would take us there, but that is what resulted from it.
Marianne Lake:
And so this is a moment in time, we're obviously facing a very significant health crisis, a significant economic period of uncertainty, high levels of unemployment, social unrest, civil unrest, all coming together in a sort of collision in 2020. And so as you think about where your sitting in the position you're in now as the Executive Chairman of IBM, and think about what leading through a crisis like this means, just give us some insights as to how you yourself and your board and your company, have thought about leading through this situation.
Ginni Rometty:
Yeah. No, IBM is itself having lived through whether it was wars, whether it was 9/11, market crashes. But having been through it all, I've always found, I get the calmest in the most turmoil...
PART 1 OF 4 ENDS [00:08:04]
Ginni Rometty:
... I've always found I get the [inaudible 00:08:02] and the most turmoil. And to me, this is about just staying really focused on what your purpose is. So when I think of COVID and we took ourselves, 400,000 people, 95% were remote in about two days. Now, the others had to be out there because they're out there in all of your companies doing things.
Ginni Rometty:
So first, was get that done. But then boy, immediately the team worked on putting together a high-performance consortium to go latch all of the high-performance computers in the world to help work on the cure for COVID. And it's true for COVID and it's true now with the focus on racial justice here, has been employment. Because I thought I could see this immediately, what was going to happen.
Ginni Rometty:
I saw a report yesterday, 26% young black women unemployed. This is to me, back to what do you do in these moments? You lead from your core purpose. And these are things that are both good for business, good for the community, the stakeholder, and it is a focus on economic opportunity, will solve many, many of these things.
Ginni Rometty:
A, your initial reactions are on your purpose. Your second reaction then, by the way, is to reimagine. You look at everything as a glass, half full, and you get a chance how to re-imagine your company and other things that you do. But then the third is I think, this obligation that business has through public/private partnership to solve these big issues.
Marianne Lake:
Just to build on that theme of how you make progress, are there any other ways in which IBM or you as a leader have been able to actually, it's a long game, make change that you think is sustainable in diversity and also in inclusion?
Ginni Rometty:
I think, it's part of our job to be a responsible steward. Diversity's a number, inclusion's a choice that people make. And so you have to reinforce it in everything you do. You can't fight everything by the way, but you pick the ones that you think are really important. And so those are public things you do and then things within your own company, you do.
Ginni Rometty:
So that, when you say, what else have we done or the impact? I think it's been this consistency of action, its been standing up for the underserved that are out there, and being a role model for being an inclusive company, but with a role model for public private/partnership. It's one of those things that you have to feel it in your heart and not just your head, to make progress on this topic. And at its soul, I believe economic opportunity does equal social equality. So if you remember that equation and you really believe it, it'll drive what you do.
Marianne Lake:
You used the words trust. We use the words, trust and confidence, that they have the trust and confidence that we have their backs on these issues. If everyone approached this endeavor with a long-term focus with consistency of execution, with an objective to engender the trust and confidence of the people who work for us, then we would make the same progress that we make in our business strategies.
Marianne Lake:
So we're grateful for that because you're humble about it, but you broke ground. Maybe on that note, talk maybe about some women in your life that have inspired you. And in what ways they've left marks on you, that you've taken away and embodied in your own personal and professional leadership.
Ginni Rometty:
Well, you wouldn't be surprised if I told you my mother. You wouldn't be surprised if I told you my grandmother. What my grandmother taught me, it was again, you take care of yourself. Always be in a position you can take care of yourself, never have to rely on someone else. And I think you have one of my heroes on your agenda, which is Condi Rice. And I would put in the same category, another women, Dr. Shirley Jackson.
Ginni Rometty:
It's just awe inspiring for me to watch and learn from women who were able to take their positions, be steadfast in what they do, yet be themselves at the same time and have the huge impacts on the world and be the first in so many things. And so that force of nature, but with grace and dignity would be what I've learned from them.
Marianne Lake:
So be yourself, be authentic, all great pieces of advice. So many inspiring women. I'm glad you started actually with your mother and with your grandmother, because I mean, it's where we all will start. So it's been really great to hear you thread all that together and lots and lots of it resonates with me. But I wanted to offer you the chance, if you have any last thoughts or advice or calls to action for the audience, remembering that our audience is our employees at every level, through every discipline, our clients.
Ginni Rometty:
Yeah. I'm going to end on one, which is a story that goes with when I said to you, growth and comfort, never coexist because I hope that will resonate with many of the young women who are here or middle career, however, or starting up a company. You've got a whole network of people watching.
Ginni Rometty:
I was early in my career. I had been in a job and my boss said, "Hey, I'm going to a new job and you're going to get my job." And I said, "Oh no, no, no, no, I am not ready for your job." He said, "Oh no, you are. Go to the interview." And I went to the interview and the person said to me, offered me the job. And I said, "Hmm, I think I need a few more years. Let me go home and talk to my husband." He said, "Okay."
Ginni Rometty:
And I went home and talked to my husband, Mark. And he sat there like always just listening to me. And he said, "Do you think a man would have answered that question and responded the way you did?" I said, "No." And he said, "Why did you say that? Why did you focus on everything you can't do?" And I went back in, I took the job and the person said to me, "Don't ever do that again." I said, "I understand."
Ginni Rometty:
And it was in that moment that it became so clear to me that it is most women and many of the women I know, I could think of everything I couldn't do versus focusing on what I could do. And this idea that, hey, if I'm going to grow, growth in comfort will never coexist. So embrace that thought.
Marianne Lake:
Okay, well, I'm all in. And I am looking forward to being uncomfortable and growing in partnership with you in your newest role as a board member of JP Morgan Chase. So thank you so much for joining us.
Ginni Rometty:
My pleasure.
Sam Sapperstein:
I hope you've enjoyed this conversation for me. Jenny's most notable quote is that, "Growth and comfort never coexist." If you want to keep growing your career or your company, you must take risks and be uncomfortable. I loved her personal story about hesitating and taking a new job because she thought she wasn't ready. It illustrated her point that you need to be uncomfortable in order to grow and take the next step. And many can relate to the self doubts that Jenny experienced.
Sam Sapperstein:
I want to thank Maryanne and Jenny for such a great conversation. Next we'll transition to another woman who has experienced leading through change. Amy Errett CEO of Madison Reed. Amy will share why we sometimes need to throw out our playbooks to find success. It's a great lesson for these challenging times.
Amy Errett:
I'm Amy Errett, a woman, a daughter, a business founder, and a mom. And all of my life I've been following the playbook, but there were times when the world tells you, it's just time to throw it out and COVID was one of those times. First, let me tell you about my company, Madison Reed, and why I decided it was time to throw out the hair color playbook.
Amy Errett:
For far too long, hair color has been disappointing people, selling box after box with toxic, terrible ingredients. We knew we could do better, and we are. We have reinvented the hair color industry, changing the way women color their hair at home and changing the way women color their hair in salons with our breakout color bars. In the process, we're working to reinvent how society defines beauty, challenging conventional advertising in ways not many brands are doing. Inclusion needs to be inclusive.
PART 2 OF 4 ENDS [00:16:04]
Amy Errett:
... not many brands are doing. Inclusion needs to be inclusive of color, of shape, of age, and so much more. Our advertising images are never retouched. We show real women. In fact, one of our models is 67, and I believe she's earned those laugh lines. No secrets, full transparency. Our promise is giving you gorgeous hair color with ingredients you can feel great about and access to everyone.
Amy Errett:
That's the what of Madison Reed. I founded the company on the belief that a confident woman is a beautiful woman. And we celebrate women who shine from the inside out, who live unapologetically, and telling their truth. So when COVID hit, women turned to us, and turned to us, and turned to us. By the tens of thousands, they knew that we would get them gorgeous hair color delivered to their door.
Amy Errett:
In the months leading up to COVID, we had expanded our Color Bars across the country, and now in one fell swoop, we were closing all of them. So Madison Reed had to throw out the playbook, because the playbook is wrong. We took all of our colorists from behind the chair, because we closed our Color Bars, and moved them to our call center. Nearly 100 people. While these COVID business problems are good, and I am completely humbled by them. The stress of our team members who work 24/7, had to deal with their own fears and their anxiety, and now kids going to school at home.
Amy Errett:
When you get out of business school, the playbook tells you, "Lead with strategy." However, there's a way to lead and it's from your heart. Don't be afraid to be human, to be vulnerable. Don't be afraid to be exactly who you are. People need to be seen for their contributions. They need to be seen for their impact, and they want to follow you because there's mission and purpose. And every day when they get up, they want to come to work because it matters.
Amy Errett:
The playbook also says that failure is negative. Well, I say failure is your best friend. I was on a roll, and I was running another company, and then I was fired in a hotel lobby. Public humiliation. I felt totally ashamed. Came home, said to my wife, "We need to tell Madison," who was four at the time. Claire grabbed Madison and said, "Hey, Madison, I have great news. Mommy works at home now." And I realized at that moment, everything I needed was right in front of me. I started to figure out what motivates me and what I realized, that it was leading teams and starting things from nothing.
Amy Errett:
So then I started Madison Reed, named after Madison, my daughter. And as I looked at her, I thought about what the hopes were for all women for success, for the courage to find her voice, and your own voice, to feel the confidence that comes from knowing you've shown the world your best self. Your playbook is unique to you, and your genius is what's going to the world forward.
Amy Errett:
I thank you so much for letting me share my personal story with you today.
Sam Sapperstein:
Big thanks to Amy, again, for sharing that advice. It's a great reminder that we can learn from failure and shouldn't be afraid to take risks. Our final guest today is Rosalind Brewer, the Chief Operating Officer of Starbucks. Like Amy and Jenny, Roz is aware that her role is not just to ensure Starbucks is meeting its bottom line, but to make sure it's an inclusive place for customers and employees. Let's listen in as she shares why we all need to trust our inner voice.
Phyllis Campbell:
Hi, my name is Phyllis Campbell. I'm the Chairman of the Pacific Northwest for JPMorgan Chase, and I am so excited and privileged to be able to interview Rosalind Brewer, the Chief Operating Officer of Starbucks. She's better known as Roz. So welcome, Roz. We've admired how well Starbucks has responded quickly during the crisis, keeping your customers and your employees safe. So could you talk a little bit about some of the unique challenges that you faced as a Chief Operating Officer when the crisis hit, and how did you handle them?
Rosalind Brewer:
Sure. So the crisis hit us first in our China operations, and they began to see cases in mid-December. So by third week of January, we were in a full on war room setting in the Seattle offices, just creating scenarios to say, "What if this comes to the States?" So we immediately went into crisis mode, and the first thing we did was set principles. And one of our most important principles was how to keep our baristas safe. What kind of PPE did they need? How do we secure it? And then figure out, how do we put in safety measures in the stores for cleanliness, hygiene, separation of duties? Plexiglass and drive through windows, and then eventually a full-blown plan.
Rosalind Brewer:
So also embedded in our decision is that we would follow the guidelines and let science lead our decisions. And so we really sought out our internal partners, we call our employees partners, who had the experience. And the third principle that we followed was to work closely with local health officials. And so we connected our company to physicians and researchers at University of Washington, and then also too, the Governor's office and the Mayor's office, just to make sure that we knew whatever happened in Seattle, we had to take care of our home office as well, and then all across the US. And so our local leadership out in the field connected with these same three principles of keeping partners safe, creating relationships with local officials, and following the science.
Phyllis Campbell:
I'm going to shift gears into the racial justice or injustice subject. And you've been such a leader through your career. I've followed many of the principles that you've set in that arena with your advocacy for racial justice and diversity, equity & inclusion. And I don't have to tell this audience really about what we've been through as a nation in the last number of months, since the horrific killing of George Floyd in May. But I am interested in your thoughts, not just about the Black Lives Matter movement and the protests, but specifically Starbucks. How has this impacted Starbucks? What are some observations that you have about, has it changed the culture? Has it shifted conversations?
Rosalind Brewer:
So I think everyone recognizes Starbucks as a brand that leads in this space around racial equity, fair treatment of others, and really being a pillar in the community for doing things that other companies likely wouldn't do and wouldn't address right away. But this has been a challenge, because there's been successive issues. We are noticing that this is taking a toll on not only our African American, our Black employees, but it is taking a toll on every one of our employees. And so this has now become a universal issue.
Rosalind Brewer:
And what we have tried to do was to create courageous conversations within our company to help our partners understand that we see them, we hear them, and we understand what's happening here, and we want to be a part of change. And so it takes us back to the work that we did when we had our own incident in Philadelphia, where two African American men were arrested. And then we knew that our principles and guidelines had to really address, "How do we further create a warm and welcoming environment when the environment outside our doors is changing?" So we began to invite the conversations in, and we increased our relationships in every community where we have stores, and really reinforced who we were as a company. And we're doing those same things now, even addressing the issues that continue to happen every day in our-
PART 3 OF 4 ENDS [00:24:04]
Rosalind Brewer:
... now, even addressing the issues that continue to happen every day in our environment.
Phyllis Campbell:
You mentioned the Philadelphia store, the two black man, for those of you that don't remember, that the police were called by the store manager because they suspected the motives of these two black men. But your personal story, you had just come to the company and I remember thinking you stepped up right away to address this in a courageous way, but actually was it your son that called you? I'd love to know a little bit more about that conversation. How did that affect you?
Rosalind Brewer:
So crazy. So it was really interesting. While this incident was going on, I happened to have left Seattle for the weekend to go over to San Francisco, and I was meeting with two mentees that I have. They happened to be African-American males that are both were between the ages of 25 and 30. And this situation was brewing. I saw it playing out on black social media, and I knew I needed to get involved and address it. But everything was happening all at once. I got a call from my son, as he saw it hit social media and he said, "Mom, what's going on?" And I told him what I knew and he said, "You know, you can't let this happen. You've got to do something. This is not going to happen like this." And so he pushed me to take a real strong position on this and try and help the company understand what we needed to do.
Rosalind Brewer:
And me as a mom of a 25-year-old, same age as the two gentlemen sitting in our store in Philadelphia, I looked at those two individuals and they looked just like my son. My son looks just like that on the weekend. And they were just having a casual conversation. And so I knew from a very personal, very emotional standpoint that I had to intervene and help the company understand what's our best move next, and we did. We got into Philadelphia in less than 24 hours, not a lot of clothes and we just kind of made it happen.
Phyllis Campbell:
Well, thank you for sharing that personal story. That really makes it very tangible and certainly personal, emotional, as you said. So, thank you for your leadership there. So at Starbucks, what are some of your major initiatives around moving the needle on racial diversity and equity?
Rosalind Brewer:
At Starbucks, we start from the basic premise to include all people, all differences and recognize and appreciate and value the differences in people. What I've learned most out of this is that leadership comes with no title. When it's time to make a decision, go back to our mission and values to inspire and nurture the human spirit every day. Not only with a cup of coffee, but just a hello or however you interact with others. It reminds us all to never underestimate our teams and our people. And then it's always important to think about the how and the what when you're in the thick of things, right? And so everybody's got a strong view, and listening and learning is very important right now.
Phyllis Campbell:
Is there an incident or something you could share that you would say, I still overcome this even today or I've had numerous obstacles? Any advice there or I guess, personal vignettes?
Rosalind Brewer:
Wow! To be honest with you, I've been spending a lot of time thinking about that lately with all that's going on. I think about how have I done it, how can I teach, what more do I have to learn. And then I think about the roadblocks I've run into. And many people think I haven't had roadblocks, but I have, and I've had some dark moments, to be honest with you. I recall one of my performance evaluations. I was early on vice president in personal care company. And in that performance eval, my manager said to me, "You think you're smart, but you're really not as smart as you think you are. And I think we're going to need to leave you in this role for a little while longer and your development will be slower." And this is while he's sitting there blowing cigarette smoke in my face. And it's just like, the whole scene was like, this whole thing is ugly.
Rosalind Brewer:
I have a cigarette puffer in my face and telling me I'm not smart. And then after a while, I just started cracking up laughing. I'm just like, "This is the funniest scene I've ever thought of in my life." So then I'm thinking, now he thinks I'm dumb and crazy because I'm laughing in his face. And I just had to shake it off because the day that someone gets to tell me that I'm not smart enough, that's just not going to happen and I'm not going to accept it. But he really charged. He gave me charge. And after that, I actually took over the unit that he was running after he retired. I look back on those and I'm grateful that I didn't listen. And I just say that to so many women that I mentor is that watch your inner voice and don't let it get confused with what you're hearing externally.
Phyllis Campbell:
That's great advice. Thanks for sharing that. So really I think the audience would like to know, who has inspired you?
Rosalind Brewer:
My mother never finished high school, but if you all had met her, you would have thought that she was a scholar. And she sent all five of us to college. My dad worked three jobs, but my mother worked very hard. She worked in the auto industry and then she'd come home and take care of all five kids. And so for that, I say, "I can do this." So she wakes me up every morning. And then I think of someone like Michelle Obama, her whole message of when they go low, we go high. I'm looking at things through November. I'm fixated on going high at this point.
Phyllis Campbell:
I love it. Well, thank you for spending time with us today, but most of all, thank you for being you. You're a rarity in the top ranks of corporate America and you continue to inspire me, but certainly millions of women across this country. So I just want to say again, thank you for who you are. You're incredible.
Rosalind Brewer:
Thank you, Felice, so much.
Sam Sapperstein:
I love how Roz approached the situation with her former boss. She recognized she could either let his words upset her or listen to her own voice, telling her she was indeed smart and capable. Thanks to her self-confidence and skills, she eventually took over her boss's job and never looked back.
Sam Sapperstein:
If you take anything away from these conversations, I hope it's to always listen to your inner voice and to not let outside influences or failure deter you from opportunities that might change your career path.
Sam Sapperstein:
Thank you for listening to this episode of Women on the Move recorded at a Women's Leadership Day 2020. If you'd like to see more from our event, visit jpmorganchase.com/leadershipday for the replays and additional content.
Sam Sapperstein:
The mission of Women on the Move is to help women in their professional and personal lives. Our goal is to introduce you to people with great ideas, inspiring stories, and a passion to make a difference. If you enjoyed this episode, please rate, review, and subscribe so you won't miss any others. For JP Morgan Chase's Women on the Move, I'm Sam Saperstein.
Sam Sapperstein:
JPMorgan Chase Bank, N.A. is a member of the FDIC.
PART 4 OF 4 ENDS [00:31:10]
Subscribe