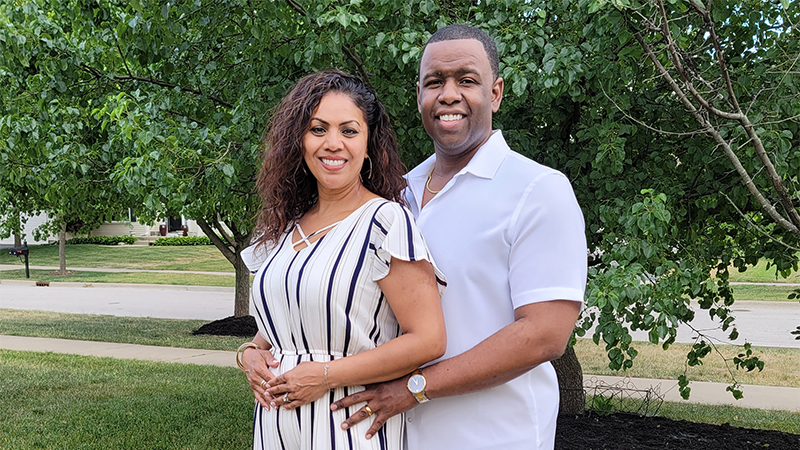 Stories
Building Stronger Communities...And Healthier Bodies
In the middle of 2020's protests, Andre Baker's efforts to help rebuild his community gave him the push he needed to rebuild himself.
In 2020, Andre Baker found himself becoming a public figure in a way he never imagined. When protests erupted across the US, Baker—Chase's Chicago Market director— had one thing on his mind: Keeping his employees and clients safe. Baker was ready to help employees at Chase branches across the city respond to protesters, but, as he soon learned, some of the attacks would become very personal—and very public.
"Understanding the sensitive nature of the protests, my team and I were prepared and ready for the protestors," says Baker. "What I wasn't ready for was seeing myself on Facebook with a list of comments attacking me for being overweight."
Baker weighed more than 340 pounds at the time, and a video posted by one protester showed him walking to a taxi after leaving a branch where he had just spoken to protesters. Commentors made fun of how long it took for him to enter the taxi, citing his weight as the reason for the struggle.
"I found my 16-year-old daughter Jazz crying in her room," says Baker. "She had seen the video and it hurt her to see these people who know nothing about me making fun of me. That day, I said, 'I'm going to change the narrative.'"
For the first time in his life, Baker—joined by his wife, Liz—focused on his health and nutrition, watching his diet and regularly exercising.
"I realized I had to put my health first, even before my work," he says. "After all, I can't work if I can't live."
Since then, Baker, his wife, and his daughter Sam—who decided to become a vegetarian—have gotten in much better shape, Baker himself losing over 90 pounds. As his 12-year-old son Jayden puts it, "He lost a whole me."
And Baker isn't done yet. His overall health is improving—no more migraines, no more knee pain, no more carrying around a towel to—as he puts it—"to mop up my sweat." But he's quick to point out that the changes in his life came from within, not from the online mockery he faced.
"Those social media attacks made me look inward," Baker says. "I changed because I wanted to be there for my three children and my wife."
This experience has taught Baker a lot about resiliency—a lesson he's passing on to his children. "They're learning that life throws so many things at you and you have to be strong enough to overcome them," he says. "I learned that you can change, if you set your mind to it."
Baker also feels that his conversations with protesters—which started the bullying, and ultimately his physical fitness journey—have had an effect that extends far beyond his home and into the community he proudly serves. "I feel the community has definitely recognized and embraced what JPMorgan Chase is doing here," he says. "They see that we're committed to them."
This commitment extends across the city—and the country. JPMorgan Chase recently announced a $150 million program to advance racial equality in the city. All told, it is committed to investing $800 million in racial equality in Chicago by 2025 through a combination of philanthropic and business investments, aimed at boosting home ownership in underserved neighborhoods, expanding minority-owned small business credit and capital, and helping more people build the skills they need to be successful.
"To watch my community get healthier financially, that's what the protests were all about," Baker says. "And to know that I walked away stronger too, that's something that I can be proud of."