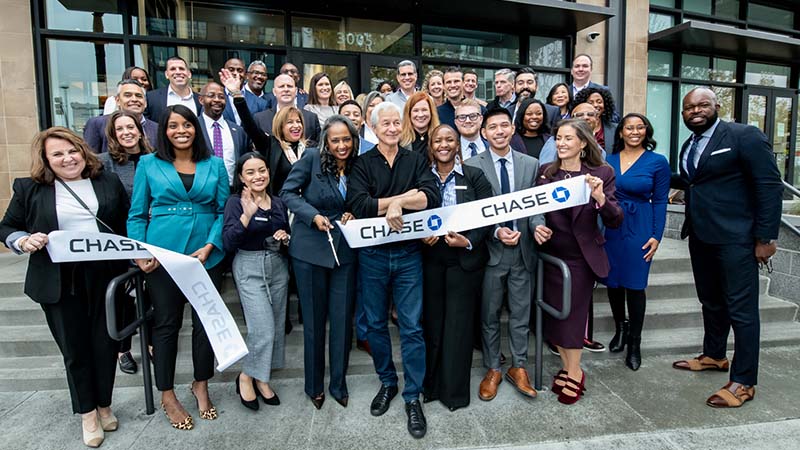 Stories
Building Opportunity for Oakland's Black, Hispanic and Latino Residents
Downtown Oakland's new community center will feature a new type of bank—One designed to fuel economic opportunity to the Bay Area's underserved residents.
When people think about what makes a community, banks don't usually top the list. But when it comes to building businesses, protecting families, and helping people to plan their futures, banks are at the center of every community. And, in downtown Oakland, California, a new kind of bank is laying the foundation for a stronger future for the community, rich with opportunities for Black, Latino and Hispanic residents.
On December 8, 2021, Chase celebrated the grand opening of the Oakland Community Center—the first center of its kind in Northern California, and only one of 12 across the country.
"We're going beyond banking to community building," said Lawrence Bailey, Head of Community and Business Development for Chase Consumer Bank nationwide. "We 'll be hosting financial health seminars for the community to learn and get advice on how to achieve their financial goals and ultimately build generational wealth."
The Oakland Community Center includes a full-time Community Manager, Myesha Brown, along with Branch Manager Latanya Millican, who will offer the community and local businesses a host of resources, including financial health education on topics such as credit, budget building and how to save for your future.
The Community Center will also offer a host of innovative tools and resources, including growth support for local entrepreneurs, workshops to help residents build their financial health, and a pop-up space to host events, community groups and local non-profits.
"Serving the local community is our top priority and it's important that we continue to be there for our neighbors to help meet their financial needs," said Branch Manager Latanya Millican. "We're excited to find ways to continue helping the Oakland community achieve their financial goals."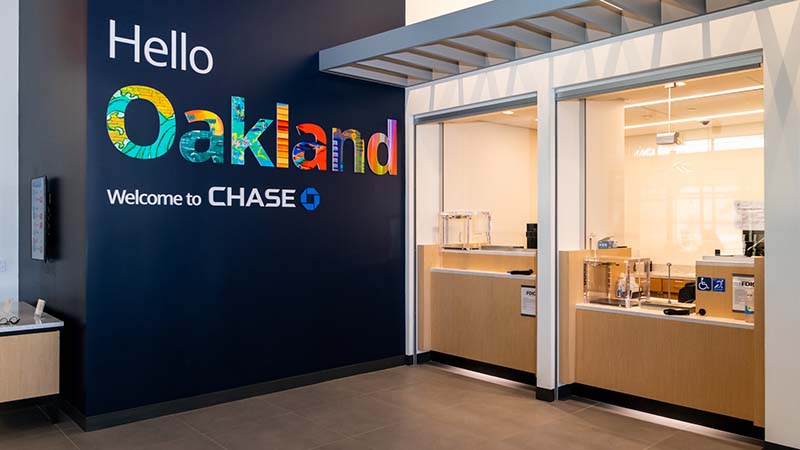 Expanding Minority Small Business Growth
The new Oakland Community Center branch is part of the firm's $30 billion commitment to advance racial equity and drive economic opportunities for Black, Latino and Hispanic communities.
Under this commitment, Chase recently launched a new program to accelerate minority small business growth in 13 U.S. cities, including the San Francisco Bay Area. This initiative matches small business owners with senior business consultants, who provide advisory services such as mentorship, business development coaching and financial planning. Over the next five years, Chase plans to provide an additional 15,000 loans totaling up to $2 billion to small businesses in majority Black and Latino areas.
"After collaborating with my Chase Senior Business Consultant Nykole Prevost, myself and our Director of Operations were able to identify areas where the business can really impact our local communities on a faster timeline then we originally envisioned," said Derrick Hill, Founder and President of Hill & Quality Associates, LLC, which works collaboratively with businesses in the biotech, pharmaceutical and medical device fields to provide quality management strategies.


Building Home Ownership
Housing is a continuing challenge in Oakland, where high property values translate into a lack of affordable housing and a clear path to home ownership for many families.
"The housing crisis continues to impact the Oakland community, especially in Fruitvale and East Oakland and that's why partnerships with bold companies like JPMorgan Chase are vital to create more opportunities to provide affordable housing," said Chris Iglesias, Chief Executive Officer, The Unity Council. "Being anchored in Fruitvale for over 50 years helps us identify community needs in real time so we can take action quickly."
To address the problem, the Oakland Community Center branch will feature a community home lending expert and is offering a $5,000 homebuyer grant to help cover closing costs and down payment for qualifying homebuyers. This is part of a longer-term strategy to promote affordable housing in the Bay area: Over the past five years, Chase has invested over $300 in construction and permanent loans and low-Income Housing Tax Credit equity throughout Oakland. In 2020, the bank committed to a $75 million, five-year investment to address affordable housing in the area, offering long-term, low-cost loans to provide affordable housing, protect local residents from displacement and promote solutions to tackle the area's affordable housing challenges.
This follows in the footsteps of a dedicated, nationwide effort to promote affordable housing. The first Chase Community Center opened in New York's Harlem neighborhood in 2019, and was followed by similar branches in Minneapolis, Chicago, Dallas, New Orleans, Los Angeles, Detroit, Houston and Boston.