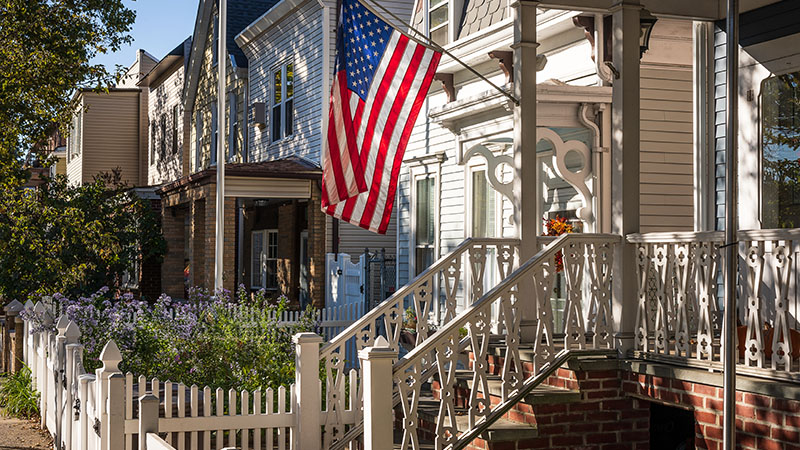 Stories
Building a Future for Veteran Entrepreneurs
For Marine veteran Chris Dambach, the hard road to entrepreneurship has gotten easier thanks to a program sponsored by JPMorgan Chase.
A previous version of this story was published by the Institute for Veterans & Military Families.
After Chris Dambach returned from his deployment as a U.S. Marine in Iraq in 2010, he decided to start a business: Veteran Lawn Care. He invested in some used mowers and borrowed a truck from his brother-in-law. He grew the business steadily, beginning with residential lawn service, then adding tree removal, snow removal and janitorial services.
In 2012, Dambach attended Operation Startup and Grow, an event at a local community college, where he met a representative from Syracuse University's Institute for Veterans and Military Families (IVMF) and learned about the Entrepreneurship Bootcamp for Veterans (EBV). Founded by JPMorgan Chase, IVMF supports veterans like Dambach with programs to help them succeed in their post-military careers.
"I was naive," Dambach says. "I had already had my first government contract. I said, 'I know what I'm doing.'" But after researching EBV online, he decided to attend.
Learning to Build
"EBV changed the entire landscape of my company," says Dambach, who graduated from the program in 2013.
Founded at Syracuse University in 2007, EBV is designed to offer cutting-edge, experiential training in entrepreneurship and small business management to post-9/11 veterans. The program features online, instructor-led business fundamentals and research course work, a nine-day residency experience at one of the 10 EBV consortium schools, and 12 months of ongoing support focused on small business creation and growth.
"I walked away with a greater knowledge of running a business—what a business plan was, profits and losses, balance sheets, cash flow statements and how taxes worked," Dambach says.
The experience gave him a better understanding of how to continue building his business, and he made lasting connections with peers in the EBV program. "It was nice to be surrounded by people in the same boat as me," he says. "I learned a lot from my classmates, and they learned from me too.
"A lot of that magic happened outside of the classroom, and I discovered an amazing network."
In 2017, Veteran Lawn Care became Industry Standard USA, reflecting the business's new expansions to include general construction. Then, in early 2020, Dambach had the opportunity to expand into facility support services—managing a building and all the subcontractors within it—for the federal government.
Changing Directions During COVID
When the pandemic began to force business closures due to social distancing restrictions, Dambach was worried his business was at risk. His fears seemed to be confirmed when he heard from a contracting officer that one of his largest contracts, a $6.3 million-dollar deal to raise and realign headstones of veterans in Long Island National Cemetery, could be on hold.
"It scared me because I would have to start laying off our team members here, which no business owner ever wants to do. These people have families," says Dambach.
To avoid that worst-case scenario, Industry Standard USA pivoted to offer their current customers COVID-19 supplies and personal protective equipment. "We have a direct connection with a manufacturer in China, and they have a great reputation," Dambach says.
Dambach also made some personal sacrifices. "We reduced my wife's salary, and I took a cut on my salary," he says. "I put my car up for sale to ease the burden on the company bank account so I can continue to keep my people employed."
Planning for the Future
Using the resilience he learned as a member of the Marine Corps, Dambach is evolving his business to overcome the current crisis. "For example, we offer janitorial services, but this is a higher level of janitorial service we're going to provide now," he says.
In response to the virus, the protocols will go beyond just the gloves you find next to your kitchen sink. "This is different," Dambach says. "This is full gear and using fogger machines to fog an entire emergency room, using special disinfectant to kill the COVID-19 virus."
Dambach is proud of how far his business has come. He's been able to use his expansion into government contracting to help other IVMF graduates, too. For example, he's teaming with one colleague that he met at an IVMF event in Dallas before the outbreak suspended travel, and their companies are partnering to provide emergency janitorial services in New York City VA hospitals.
His firm's reputation for providing quality services and products at fair prices has Dambach feeling optimistic about weathering the pandemic.
"We've got a good track record. We found out from our contracting officers that they want us to continue. We have all that current business, and now all this new business coming in because we decided to pivot."