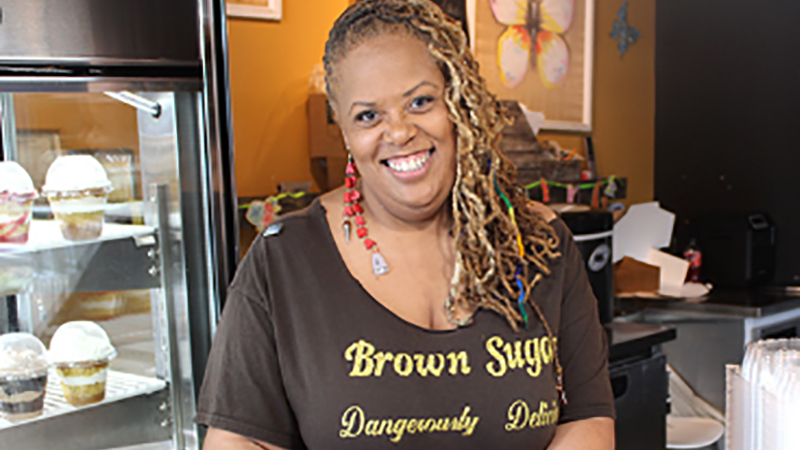 Financial Planning
A Chicago Bakery Gets a Sweet New Home
When Chicago-based baker Stephanie Hart heard a local candy factory was going up for sale, she was inspired.
She knew the space would provide an amazing opportunity for her business — Brown Sugar Bakery — to grow, but wasn't exactly sure how to approach the acquisition.

This expansion was critical to her business and community thriving. "If my community is only starting businesses that aren't around for generations to come, that hurts us in the long run," Stephanie explains. What she describes is one of the biggest challenges that affects Black female entrepreneurs in particular – scalability.

An estimated 17% of Black women in the U.S. are currently starting or running new businesses, compared to just 10% of White women and 15% of White men. Yet just 3% of Black women are currently running a mature business, according to Harvard Business Review. One explanation is that Black women entrepreneurs often have less access to capital, making it difficult to sustain business growth.

The expansion plan was born about a year ago, and it was around then that Stephanie first met with a community development expert at her local Chase Community Center on Chicago's South Side. Stephanie was paired with a mentor, Pamela Randle, a senior business consultant at Chase, who has since provided her with financial planning services and business development strategies to help grow her business. "This kind of mentorship and support are vital. I'm starting to beat the odds. I'm growing a legacy business," says Stephanie.

Launched in 2020, as part of the firm's $30 billion racial equity commitment, this new program aims to accelerate business growth for Black, Hispanic and Latino entrepreneurs in historically underserved areas. This program is available to small business owners, Chase customers and non-customers alike, across 13 U.S. cities. These cities include Chicago, Atlanta, Akron, Bay Area, Dallas, Detroit, Houston, Los Angeles, Miami, New York City, Orlando, San Bernardino-Inland Empire and Washington D.C., with plans to expand this program in additional cities across the U.S. in 2022.

"Small business owners spend so much time working 'IN' the business as opposed to working 'ON' the business," says Pamela. "We're here to assist entrepreneurs like Stephanie so they can focus on growing their businesses, creating more jobs, inspiring economic progress which are vital to uplifting communities," says Pamela.

A long-time Chicago resident, Stephanie is deeply passionate about her South Side neighborhood. "She is creating a legacy of 'doing good' through her business. A number of her staff are people with criminal records as she believes in the power of a second chance to re-enter the workforce – a mission we share. This has ultimately helped them become contributing members of South Side economy," says Pamela.

Stephanie, in collaboration with Chase Community Center and Pamela, plans to host a series of financial education topics for her employees including homeownership, budgeting and managing credit later this year. But she's not stopping there. Stephanie is committed to creating as many opportunities for others as possible. "My mission is to employ at least 200 people in my community," she says. This is just the beginning.

With Pamela's guidance, Brown Sugar Bakery has continued to expand and flourish. "She has really helped me see how to evaluate opportunities and make decisions," Stephanie says. "I've got goals outlined, and if something doesn't serve my goal, it's not for me."

Today, she operates a permanent storefront – which was purchased through the Entrepreneur of Color Fund – and has begun selling premium handcrafted chocolate in addition to baked goods. It doesn't stop there though, as she's also preparing to launch a line of cake mixes.
"We are building supportive ecosystems for minority-owned small businesses and their communities to thrive – because our economy and society depends on them. It is a business imperative to see our small businesses succeed," Pamela says.
To learn more about how Chase is supporting minority entrepreneurs in your area, visit chase.com/businessconsultant. JPMorgan Chase Bank, N.A. Member FDIC.