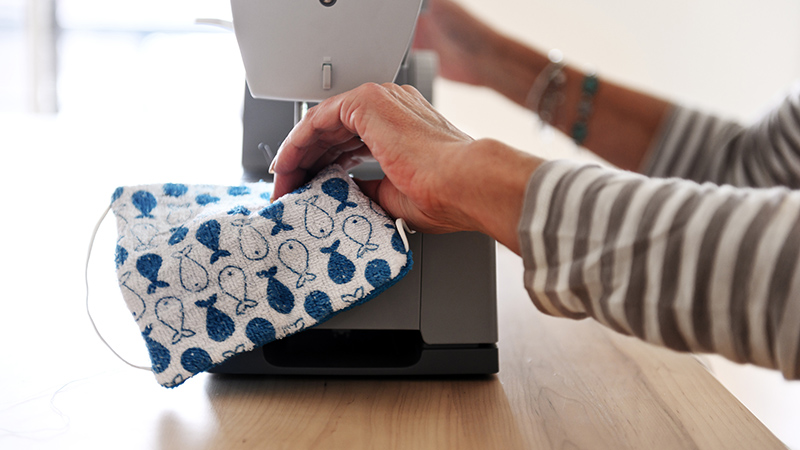 Stories
Breathing Easier During COVID: The Middlesex Mask Project
J.P. Morgan's Christine Munoz stepped up to create protective wear for essential workers during COVID-19 and inspired 400 volunteers to join her.
As it became clear that COVID-19 was on course to become a global pandemic, Christine Munoz, a New Jersey-based associate procedure drafter at J.P. Morgan, wondered how she could help. When she visited her local urgent care facility for a checkup, she noticed that the healthcare providers there were reusing their N95 masks due to the shortage. "I couldn't believe that on top of having to care for extremely sick people with such a contagious virus, the healthcare workers didn't have the proper resources to protect themselves," she recalls.
Munoz, an experienced seamstress, watched a YouTube tutorial that showed how to sew masks that could provide an added barrier for N95 masks. Then she set to work.
Soon, Munoz had made 115 masks, which she distributed to Robert Wood Johnson Medical Center in nearby New Brunswick. But as the number of COVID-19 cases in her community skyrocketed, so did demand for her masks, and she soon began to run low on supplies. What's more, with increasing delays in her orders of elastic and fabric supplies, Munoz knew it wouldn't be long before she'd have to stop making masks.
Reaching Out
Unsure of where else to turn, Munoz reached out to her community. She started by posting to a local Facebook group, asking people in her area if they had any extra fabric they could donate. She set up a small table outside her home, and told her group to drop off anything they could spare. She hoped to get a few bolts of fabric, but what happened next took her completely by surprise: Within days, she had a five-foot pile of cloth.
Although Munoz was grateful for the response, she realized she wouldn't be able to keep up with the demand for these masks by herself. "I knew that I would need to ask others for help if I wanted to continue to crank out these masks and hit the targets I was creating for myself," she recalls. Her answer was to create "the Middlesex Mask Project," named after her county in New Jersey. She created a page on Facebook where other people in her area could sign up to donate fabric and sew masks.
On April 1, the Middlesex Mask Project sprang into action. Munoz began by splitting the 40 volunteers into two groups: Team Cut and Team Sew. Team Cut was responsible for picking up the fabric from Munoz's house and cutting it into 9x6 templates. Team Sew then picked up the kits and assembled masks in the safety of their own homes.
Adapting and Innovating
As the team members were working on masks, they became aware of another problem: Wearing N95 masks all day, every day, was taking a toll on nurses, and many were developing ulcers, abrasions and cuts in the back of their ears. Again, Munoz went to work: she sent out a call on her Facebook page, asking if anyone had a 3D printer and could help develop a solution to the abrasion problem. Soon, she had four volunteers ready to work. Two of them began producing ear relief extension bands, and the other two starting printing face shields. To date, the Middlesex Mask Project has distributed over 2,000 ear relief extension bands and 300 face shields to hospitals.
"The hospital staff was delighted," Munoz recalls. "It was rewarding to see how such a small gesture could truly cause such a major impact."
To date, the Middlesex Mask Project—which now has over 400 members—has created and distributed more than 15,000 masks to healthcare workers, law enforcement teams, and other essential workers. And they're still going strong, making even more masks to help Munoz's community weather the virus.