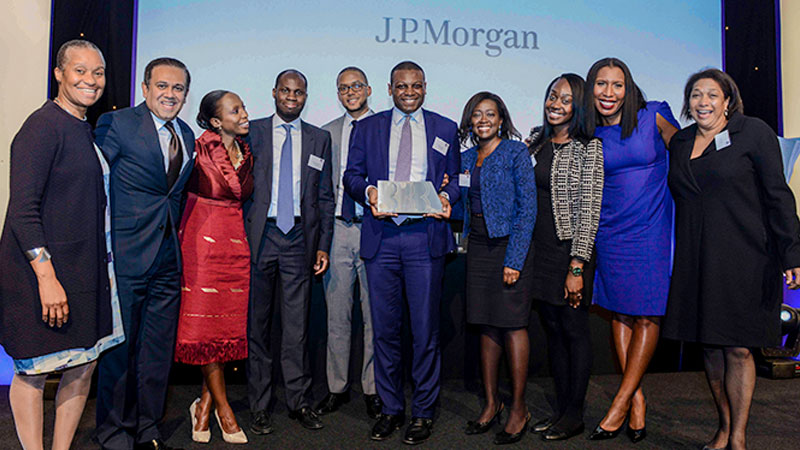 Stories
Being BOLD in Honor of Black History Month
The Black Organization for Leadership Development (BOLD) Group Shines During Black History Month.
Since joining JPMorgan Chase a decade ago as a senior executive assistant, Marlene Ruiz has made great strides in her career, thanks in part to her leadership in our firm's Black Organization for Leadership Development (BOLD) program, a dynamic Business Resource Group with 23 global chapters.
"Getting involved with BOLD has helped me build my leadership skills, while giving me greater visibility within our organization," says Ruiz, who is a project manager and training lead for our Global Resiliency & Crisis Management team in New York. "I encourage other JPMorgan Chase employees to join BOLD, because it opens doors to career opportunities and personal development."
As co-chairs of BOLD's Tri-State chapter, Ruiz and sales associate Jonathan Jenkins have planned a series of events for Black History Month, which began with a fireside chat on February 1 with actor and comedian Nick Cannon. The employee planned and moderated event drew 400 attendees and more than 300 virtual participants. "It was a great way to kick off our Black History Month program," Ruiz says.
Coming up afterwards, the BOLD Tri-State chapter, which now has more than 1,400 members, will hold a panel discussion on financial literacy with The Fellowship Initiative (TFI), a JPMorgan Chase educational program for young men of color. Other planned Tri-State Black History Month activities include a "lunch and learn" session with the firm's Brooklyn Executive Management Committee, and a networking event with some of the firm's key industry partners.
In keeping with BOLD's commitment to supporting black employees, JPMorgan Chase will also be hosting the National Association of Black Accountants' ninth annual Reflect & Inspire gathering. This collaborative event will feature a multigenerational discussion on achieving and defining success.
Along with organizing learning and networking events, BOLD serves as catalyst for community development, strengthening the firm's external partnerships, and working with JPMorgan Chase's Business Resource Groups, Market Leadership Teams and Volunteer Leadership Teams to provide greater opportunities for leadership development.
"My volunteer role with BOLD has given me greater visibility within our organization, and pushed me to challenge myself."
Marlene Ruiz
One of the things Ruiz enjoys most about being a BOLD leader is planning high-profile events that excite and engage the firm's black professionals. Cannon's fireside chat is just one example. Past Tri-State events included a question-and-answer session with artist Derrick Adams, a reception for model and businesswoman Beverly Johnson, and a conversation on social justice reform with U.S. Congressman Hakeem Jeffries (D-Brooklyn) in partnership with JPMC Civic Engagement. More recently, about 20 chapter members served meals to the homeless at a Hoboken, N.J., shelter during the Martin Luther King holiday weekend in January.
JPMorgan Chase's BOLD initiative also has a powerful impact far beyond the U.S. region. Last October, the BOLD EMEA (Europe, the Middle East and Africa) chapter was named "Network of the Year" at the Black British Business Awards in London for "promoting multiculturalism, ethnicity and social mobility." The judges added that BOLD exhibited good governance, transparency and accountability.
Reflecting on the transformative power of this dynamic JPMorgan Chase's program, Eric Smith and Jesse Jackson, global co-chairs of the BOLD Business Resource Group, said, "The leadership illustrated by BOLD chapter co-chairs like Marlene fosters professional development and a culture that unlocks value across the BRG, allowing us to better serve our communities, our customers and our employees."