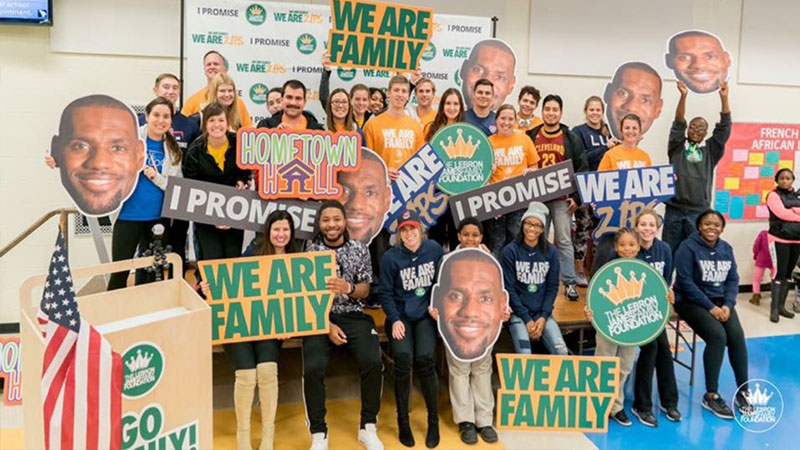 Stories
Behind the Scenes of LeBron James' New Public School
JPMorgan Chase and the LeBron James Family Foundation bring technology into LeBron's brand new public school in Akron.
Unstoppable, talented, and strong. These are just a few words that describe LeBron James, a kid from Akron, Ohio who has become one of the world's most respected and accomplished professional basketball players. But the words also accurately describe James before he was an NBA superstar, as they also represent the will and potential of Akron's youth.
When the game of basketball gave James a platform to make a difference, he created the LeBron James Family Foundation (LJFF) in order to give back to the community that helped him on his journey. By impacting the lives of children and young adults in Akron through LJFF's education initiatives, LeBron has changed the game for thousands of families in the area.
True to form, being good to his community was not enough - he had to be great. On Monday, July 30, 2018 The LeBron James Family Foundation (LJFF) and Akron Public Schools opened the doors to the I Promise School, a new public school for some of Akron's most challenged students and their families. To start, the school is welcoming 240 third and fourth grade students and will gradually expand to include first through eighth grades by 2022.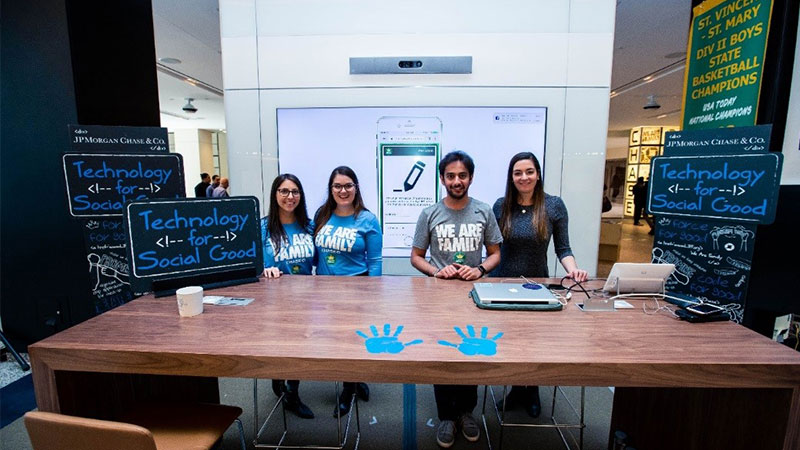 A Unique Partnership
The I Promise School is not James' first foray into education; he has been working to improve the lives of youth in his community since 2003.
In 2015, LeBron and his foundation announced a partnership with the University of Akron that would change the game for the community forever. If students in LJFF's program worked hard to meet the established criteria, they would become eligible for a full four-year "I Promise" scholarship to the University. As the number of students in their program grew, tracking the achievements of students who kept their promises scholastically became more difficult.
LJFF brought the challenge to JPMorgan Chase's Technology for Social Good team and asked for help in finding a solution. Every year more than 900 JPMorgan Chase employees volunteer their time to provide technology solutions to pressing challenges facing nonprofits like LJFF.
"[Our relationship with LJFF] started at a Code for Good challenge in 2015, and it continues to this day," says Madeline Hutchinson, Americas Lead of the Force for Good Program, JPMorgan Chase. "Our team has not only solved for the program's student data tracking – they've created new applications and tools for the students' and Foundation's use over the past three Force for Good project cycles."
In fact, JPMorgan Chase has provided three technology solutions to support the LJFF, which will also be used in James' new I Promise School. The technology solutions help LJFF:
Track and organize student records and program data,
Chart students' progress towards the I Promise scholarship by keeping the Foundation up-to-date on activities such as community service,
And help ease the check-in processes for LJFF's HomeTown Halls and other events – which provide real and relevant updates to students and their families.
Beyond Business
Technology for Social Good is just one piece of the JPMorgan Chase & LJFF relationship. JPMorgan Chase's Ohio employees also volunteer at some of the Foundation's biggest events and assisted in the creation of the Charity Chalk Talk, a toolkit other athletes can use to start their own nonprofits. JPMorgan Chase has also partnered with UNINTERRUPTED, LeBron's multimedia platform for athletes, to create the "Kneading Dough" series in which athletes discuss how they've navigated their unique financial and career pathways.
"When it comes to JPMorgan Chase, LeBron, and his Foundation, 'partner' isn't the right word to describe the beyond-business relationship we've formed. The only word to capture the impact of the partnership is a word we typically reserve for our closest relatives and friends: family," said Michele Campbell, Executive Director of LJFF. "The Chase team has become invaluable to what we are able to do as a Foundation and we are so proud to call them family."
This deep-rooted, familial relationship will continue to grow with LJFF. And while LeBron's day job has moved to Los Angeles, LJFF assures the community that his life's work in Akron will continue, day in and day out, for years to come.