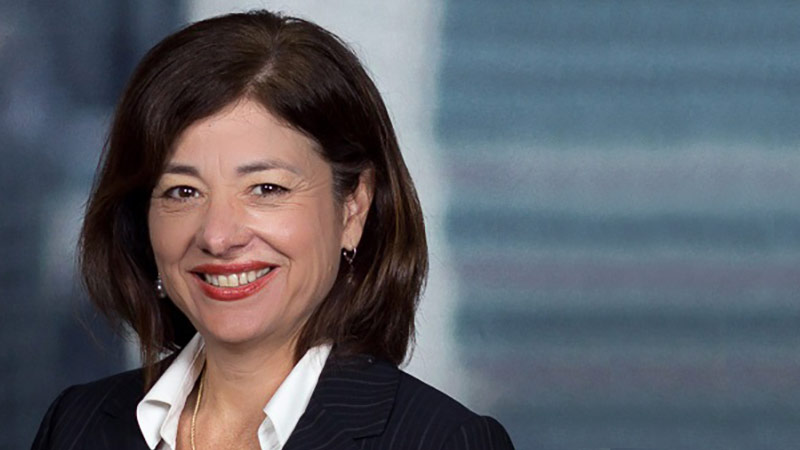 Insights
Leaders are Made in the Deep End
By Alice Rodriguez
Head of Business and Community Development
Published, Monday 9/21/2018
JPMorgan Chase executive Alice Rodriguez on the influences that inspired her to work hard, dream big and keep swimming.

There is an old saying that leaders aren't born, they're made. And even though it's a cliché, for me it has always been true. Whether serving as Head of Business and Community Development at JPMorgan Chase or on the board on the U.S. Hispanic Chamber of Commerce, I am always thinking about the influences that made me who I am.
I was "made" by a few important things: my strong independent mother, the can-do spirit of Texas, and most importantly, a willingness to dive into new challenges — whether or not I thought I was ready to meet them.
Diving into the Deep End
I have a memory from when I was in first grade. I was at my first pool party and there were a lot of cool, older kids sitting around the deep end of the pool. Of course, I wanted to be cool too, so I sat down next to them. The next thing I know, someone pushed me into the pool.
As the water rushed over my head, I panicked, thinking to myself, "Oh my goodness, you're in the deep end!" That moment stays with me even now, because somehow, in the middle of all of the panic, my instincts kicked in and I just — swam to the top. Since then I have been thrust into the deep end over and over again. At first it's uncomfortable, but you don't want to drown, so you have to swim. You have to choose to swim. Every time I've made that choice, I have grown as a person and a professional.
For example, I was born and raised in Texas and after 22 years with JPMorgan Chase, my manager asked me to move to California to serve as Business Banking Region Manager. I'll admit that I probably wouldn't have gone if my manager didn't believe in me. His confidence in me drove me to succeed, even as I struggled to learn a new place, build a new network and serve new clients. But just like when I was a child, my instincts and training kicked in and eventually, through hard work I was able to find success.
"I have been thrust into the deep end over and over again. At first it's uncomfortable, but you don't want to drown, so you have to swim. You have to choose to swim."
Learning Strength and Independence
I owe my determination and adaptability to both of my parents, but especially my mother. Neither grew up with the option to pursue higher education, so they were blue collar. But my mother was ahead of her time. We didn't have much and she was always looking for ways to make money — she would have thrived in the modern gig economy.
Every Christmas, she would make tamales, which are popular during the holiday season in Texas, and sell them to our neighbors. Another time, she got a call from her cousin about a farm in Indiana that was looking for workers, so she loaded up the car with me and my three siblings and drove 24 hours from Brownsville to Illinois. It's incredible to think about her strength now that I have children of my own.
She taught me what it means to lead fearlessly. Having such a strong woman in my life, I feel a responsibility to pay it forward. I work hard to honor her through every organization, company and nonprofit that I work with.
The Power of Home and the Pull of the Unknown
I think my mother's spirit is a reflection of Texas. It's a strong state where people are innovative and hard working. I am proud to call Texas home.
In Texas, and across the United States, there are so many young Latino men and women who are breaking down barriers to succeed. They are graduating from colleges, starting businesses and supporting our economy. We owe it to ourselves, as a nation, to them give them opportunities.
As a Hispanic woman, I am inspired every time I meet a young Latina and she looks at my career and tells me, "My parents were blue collar and you've shown me what's possible." My hope for young Latinas (and Latinos) is for them to broaden the horizons of what they can accomplish. Once they imagine the unknown, then they can find the right support.
It takes a circle of mentors and truth tellers to become a leader. I know, because my circle was critical in my own journey. But if you don't have a support system readily available, you have to create it for yourself. Dive into the deep end. Because in the end, it's up to you to swim.