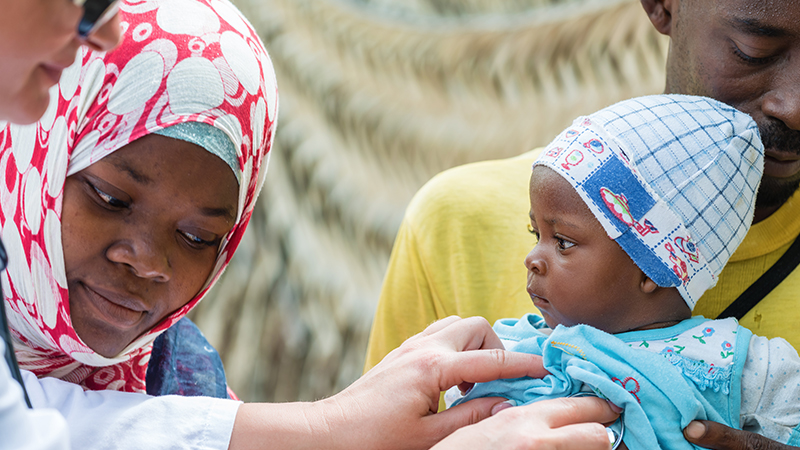 Stories
Now There's an App for Epidemics
The Ebola epidemic convinced Save the Children that responders to outbreaks need access to the same, most up-to-date information, no matter where they are in the field. JPMorgan Chase tech employees built them an app for that.
As Dr. Catherine McGowan was being flown to West Africa to join Save the Children's Ebola response in 2014, she wondered if anyone had found the time to pull together a medical and containment response to the outbreak. But when she arrived in Sierra Leone, she realized that this was an epidemic on an entirely new scale.
"We were frantically trying to work out how to train people on how to provide clinical care and WASH (water, sanitation, and hygiene) support, in the middle of an outbreak, with patients arriving in batches from a referral center. We were working wherever we could –in empty schools and in tents, developing training modules from scratch," she recalls. "Ebola didn't come with instructions."
It was their experience with the Ebola outbreak that made McGowan–an expert in public health and tropical diseases–and Save the Children realize they needed just that: instructions, updated in real-time, all in one place and available to everyone in a hot zone.
"You must have the most updated guidelines in emergencies for everyone in the field to develop a cohesive response," she explained. "Otherwise humanitarian programs suffer from delays and confusion, and time wasted is lives lost."
There's an App for That
And that's why COMPASS now exists. It's a cloud-based document management system, accessible online and through a mobile app envisaged by McGowan and built for Save the Children by two teams of technology employees taking part in JPMorgan Chase's Force for Good program.
Now anyone can download best practices on medical staff recruitment, monitoring and evaluation of the outbreak procurement lists, clinical governance, and training for Ebola and a host of other tropical diseases.
The app is designed to be used offline without internet access, so responders can download the modules ahead of going into the field. Real-time updates can be instantly uploaded into the cloud by members of Save the Children's Humanitarian Public Health Technical Unit, giving staff on the frontlines access the latest information once they reconnect to WiFi.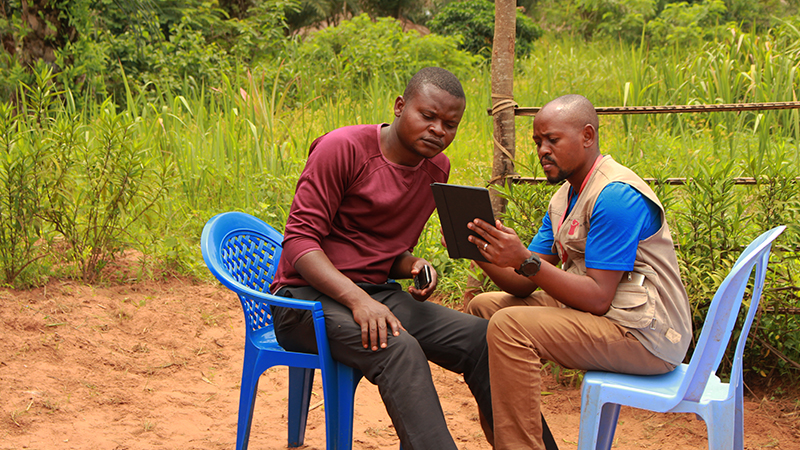 COMPASS gives public health agencies a mobile hub of information on how to treat and contain outbreaks.

Force for Good
Document management systems and digital apps may not seem like cutting edge technologies these days, but for many nonprofits–even those as well-established as Save the Children–they're tools they neither have the money nor the in-house expertise to create.
It's technology, though, that's well within the capabilities of technologists at JPMorgan Chase to create, and helping nonprofits is something the bank's technologists want to do. The bank's Tech for Social Good team created the Force for Good program to bring the two sides together and now thousands of entry level and experienced tech employees spend eight months working with nonprofits during work hours.
"Working in tech, you sometimes worry that you will feel like a small cog in a massive process," said Jordan Lawrence, who participated on a Force for Good team that worked on COMPASS. "Building the COMPASS app gave all of us the ultimate satisfaction of using our tech skills to do something truly important in the world."
Exceeding Expectations
McGowan and Save the Children have participated in two cycles of Force for Good, first starting in 2017 to build the web-based document management system.
"A year later we realized that we needed a mobile version of COMPASS, for people deep in the field, so we applied to the Force for Good program a second time," says McGowan. "The mobile app totally exceeded our expectations. Totally."
The app is now being expanded to include nutrition, WASH (water, sanitation & hygiene) and education modules, and it's being used worldwide. "COMPASS is being used everywhere. Save the Children's Emergency Health Unit for instance is using COMPASS in Mozambique in their response to the cyclone" says McGowan.
"Now, if there's a public health emergency, you go to the field, you decide on the modules you need to deliver, you open the app and there it is, all the information you need. COMPASS is beautiful. It's the most beautiful thing ever."