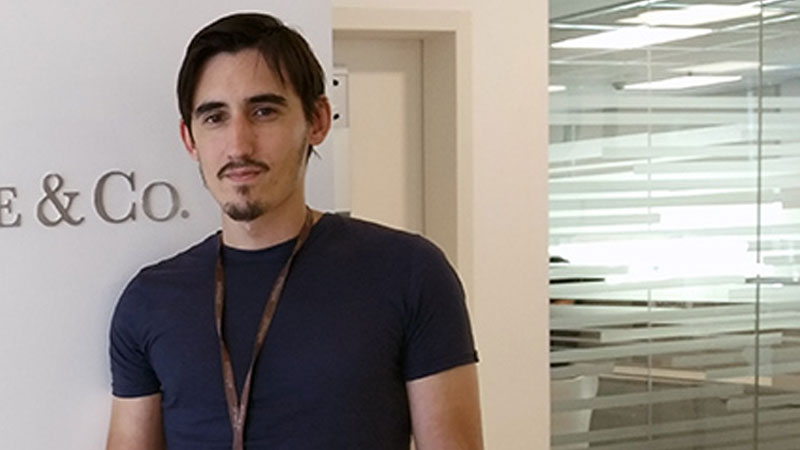 Stories
How Alejandro Lago Taught Others--And Himself--About Life on the Spectrum
Buenos Aires-based Alejandro Lago recounts his experience of growing up with autism—and finding a place where his unique abilities give him a chance to shine.
From a young age, Alejandro Lago was passionate about learning new things. When he was just seven, he completely disassembled his father's old Compaq computer and taught himself, part by part, how it worked. He discovered he had a knack for technology, and was soon upgrading the computer's hardware to run the latest video games.
But socializing was another story. He often found it difficult to express himself in a way that others could understand. "From a very young age, I always felt that my peers behaved differently than I did," Lago says. "Other people couldn't understand me and I couldn't understand them. Every interaction and social dynamic that failed would just hurt."
Growing up, he realized that his natural way of communicating was profoundly different from others'. "I went through high school, first jobs, and my whole college career feeling like a stranger in a strange land, a land where people don't say what they really think, and aren't bothered by sounds, sensations, injustices, or double meanings," he reflects.
An Extraordinary Effort to be Ordinary
To fit in, Lago tried to teach himself how others behaved so he could be better understood by his peers. "I would observe all the details in human interaction, and use them to optimize my own interactions," he says.
Lago's study of human behavior helped him improve his social skills and led him to explore psychology, one of the subjects he studied in college. Still, having to adopt unnatural mannerisms was a constant mental strain. "I would find myself being rejected, bullied, and underestimated frequently. I had to make an extraordinary effort to be ordinary," he says. "This was an extremely psychologically taxing task."
And there were other qualities, such as his sensitivity to loud noises, that he couldn't hide. "You can't change how you react to certain stimuli, you can't change your idiosyncrasies because they are deeply intertwined with your brain," he explains. "Instead, you just have to accept who you are, and that brings a genuine sense of peace, of calmness."
Lago eventually learned about autism through social media groups, and immediately started researching more about the condition. Recognizing its similarity to his own experiences, he visited a psychologist and was diagnosed with Autism Spectrum Condition. "Never before had I so profoundly identified with something," he recalls. "I remember how after receiving the diagnosis I began de-constructing all my past experiences. There was an 'Aha!' moment for almost every memory I had."
While his diagnosis helped explain the social challenges Lago faced, it also affirmed his love of learning and his ability to bring an intense focus to his work. Drawing onhis lifelong passion for technology, he decided to put these strengths to work, quickly landing a job at a small insurance broker. "The company made me the designated 'tech guy'," Lago says. "I was solving software, hardware, and network issues, and was put in charge of buying specific hardware that saved money for the owner."
Knowing his diagnosis also opened doors to new opportunities he never would have considered. Having gained some expertise in IT, Lago joined Specialisterne, a social enterprise that was training people on the spectrum for technical roles in the finance industry. His qualities as a fast learner and skilled candidate caught the attention of JPMorgan Chase's neurodiversity employment initiative, Autism at Work, and he soon found a job at the bank.
Finding a Missing Piece
Today, Lago works for JPMorgan Chase's Global Technology Infrastructure in Buenos Aires. Many of his colleagues are also on the spectrum, and many of the people in the office were trained by Autism at Work to help support their neurodiverse colleagues. "I work with an amazing group that fully understands me and appreciates all my quirks," he says. "Before anything I feel respected, and that is everything to me. I've never felt so at home."
Lago leads a Business Intelligence team that specializes in visually representing complex data to help predict and assess the health of the bank. "It's a very detail-oriented job in which you have to convey and communicate your message or story through visual rendering," he explains. "I'm good at thinking visually and that makes the work easier and enjoyable."
Changing Cultural Perspectives
When it comes to understanding autism, Lago says there is still work to be done in Argentina and around the world. "We're still at a stage where if you tell someone that you're autistic, they will assume that you have severe cognitive deficiencies or that you want to be completely alone," he says. "This can make everyday life hard, especially if you're looking to make friends or find a romantic partner."
He believes one way to combat misconceptions about autism is to bring more people on the spectrum into the workforce. "A lot of prejudices surround this condition," he says. "Programs like Autism at Work are so important; because they can show people the reality of what it is like to be on the autism spectrum."
For those who have just been diagnosed, Lago stresses the importance of following your passion. "Find what you love, and dive deep into that universe, because there is genuine happiness there," he says. "Yes, difficulties with social interaction may be a part of your life, but you will manage as we all do."
"People will always need and respect those who have a passion for the details."