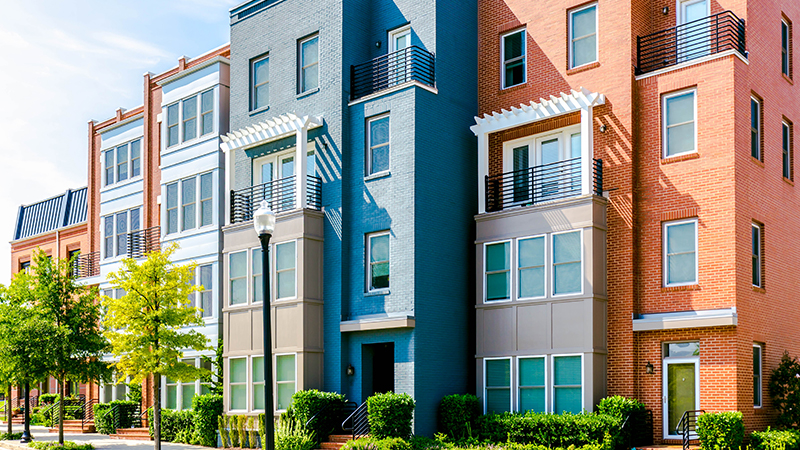 Article
A Great Equalizer for Generational Wealth—Affordable Homes for Renters and Owners
Homeownership is important to building household wealth, but systemic barriers have limited the ability for certain families to save. Today, for every 10 White homeowners, there are 3 Black, Hispanic and Latino homeowners in the U.S., which is a larger homeownership gap than in 1968 when housing discrimination was legal.
Systemic barriers have also impacted renters, with nearly 55% of Black, Hispanic and Latino renter households spending nearly one-third to one-half of income on rent. When you consider that 77%of future homebuyers over the next decade are expected to be from communities of color, it's clear that housing affordability should be made a priority.

"The three biggest barriers to homeownership for Black, Hispanic and Latino customers and low-to-moderate income homebuyers are: low cash resources for down payment, lack of funds for closing costs and credit history. Compounded by various systemic factors —unemployment, lack of generational wealth, limited financial stability, student loan debt, and limited access to affordable rental housing — buying a home can feel like an unattainable dream," says Cerita Battles, Managing Director, Head of Community & Affordable Lending at JPMorgan Chase.
Helping Close the Access Gap
Recognizing the importance of sustainable homeownership, the firm furthered its commitment to help reduce gaps in affordable rental housing and sustainable affordable homeownership through a combination of philanthropy, data-driven policy recommendations, new business services, and products and practices that provide more opportunities for homeownership and access to affordable housing.
The firm's five-year $400 million philanthropic commitment includes low-cost loans, equity and grants investments targeted to nonprofits and organizations in the affordable housing space that work to improve affordability and stability.
The JPMorgan Chase PolicyCenter released new data-driven policy recommendations to improve household stability weakened by the pandemic and increase the availability of affordable rental housing and sustainable affordable homeownership, particularly for Black, Hispanic and Latino households.

In addition to advancing policy, Chase is offering up to $5,000 in down payment and closing cost assistance to customers purchasing homes in 6,700 majority-minority neighborhoods across the country through the newly expanded Chase Homebuyer Grant. The Chase Homebuyer Grant can be combined with other grants or funding that could be available from state and local governments – and Chase Home Lending experts can help homebuyers unlock these dollars.

Chase is also helping customers take advantage of historically low rates through refinance loans, and has worked to help homeowners impacted by the pandemic have access to timely information about available relief programs.
"The financial services industry must help advance responsible purchase and refinance lending among Black, Hispanic and Latino households. This is not an easy task; but we are taking a smart, holistic approach to helping advance sustainable affordable homeownership, which helps to lay the groundwork for building intergenerational wealth," Battles continued.
Revitalizing Communities Through Homebuyer Education
Because sustainable economic growth in Black, Hispanic and Latino communities requires pathways to sustainable affordable homeownership, we are paving the way with tools and resources, including homebuying workshops, online budget building tools and access to knowledgeable Home Lending Advisors.
In the last year, Chase Home Lending created a new role—Community Home Lending Advisor--to help increase locally based support and deepen Chase's involvement and ties to the community. Along with Home Lending Advisors, their efforts are intended to increase Chase's ability to meet the home financing needs of current and potential customers, and offer valuable insight on local housing and down payment assistance programs.
"We are committed to being a part of the solution and are executing against 6 key strategic pillars that will support our efforts," said Battles.
Those 6 key pillars are:
1. People: Mirror the communities we seek to serve by hiring, retaining and growing the diversity of our firm.
2. Presence: Be visibly and actively present in Black, Hispanic and Latino communities by leveraging our sales distribution models to serve these customers when, where and how they want to be served.
3. Partners: Build and enhance key local relationships within these communities, such as: Realtors, Builders, Non-Profit Housing Counselors, Local Community and Advocacy groups.
4. Products/Programs: Help increase access to credit by providing down payment assistance and closing costs programs as well as enhance our products and programs to help meet the home financing needs of our customers.
5. Promotion: Execute marketing and outreach activities to dispel myths about homeownership, instill confidence and build the trust and consideration of the customers and communities we seek to serve.
6. Policy Participate in reform that furthers equal access to credit, increases affordable housing supply / availability, as well as wealth creation.
"This work is impactful — it's game changing and it's foundational. We're in position to make a difference in the lives of customers and communities that have been traditionally underserved," she says.
Driving Changes in the Valuations Process
The Fair Housing Act, passed in 1968, prohibits the consideration of race, color, religion, national origin, sex, familial status, and/or disability concerning the appraisal or sale of a home, among the provision of other real estate-related services. However, the legacy of redlining – a systemic process to assess lending risks that factored in the racial and socioeconomic composition of each neighborhood assessed – remains. This practice disproportionately impacted Black, Hispanic and Latino communities, negatively impacting these communities' ability to access funds to buy or maintain homes, leading to depressed home values that may persist to this day.
To address this, JPMorgan Chase has committed to changes in three key areas: Increasing training and diversity within the appraisals industry, enhancing appraisal methodologies and modernizing valuations methods. This commitment includes $3M from Chase Home Lending to help prepare 700 trainees—new, diverse talent – for careers in the appraisal profession.
"JPMorgan Chase is taking a comprehensive approach to narrow the racial wealth gap in the U.S., particularly among Black, Hispanic and Latino communities. Last October, we announced a $30 billion commitment to advance racial equity of which $26 billion is dedicated to expanding affordable housing and sustainable homeownership in underserved communities," said Mark O'Donovan, CEO of Chase Home Lending. "In addition to driving sustainable homeownership, we're working with our partners to root out bias in the residential appraisal process. We need new, diverse talent to join the appraiser industry and we're hopeful that these scholarships will help pave the way."