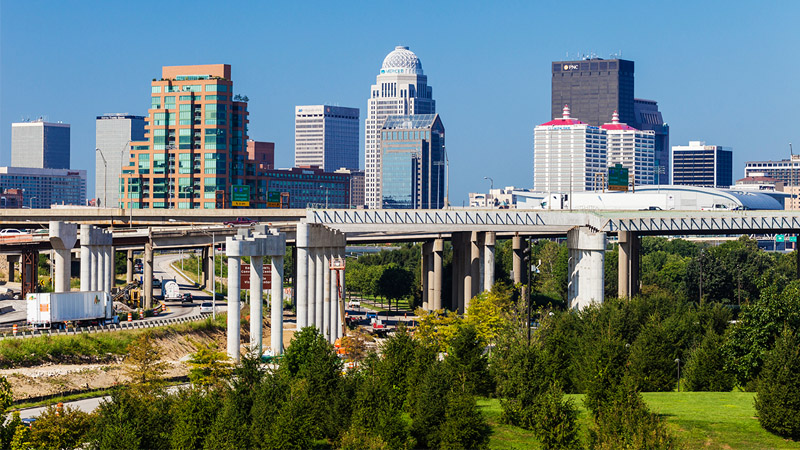 Stories
Getting the Derby City on Track
With support from JPMorgan Chase, Louisville is helping reconnect disenfranchised residents.
Louisville, KY
Feb 11, 2020
Today Louisville is known for its horse racing, elaborate hats and refreshing mint juleps (or bourbon, if you prefer). But there's much more to the Derby City.
It's rich with history, featuring everything from the planning site for Meriwether Lewis and William Clark's famed expedition to the home of inventor Thomas Edison. Baseball fans can visit the Louisville Slugger factory and museum, while boxing fans flock to the Muhammad Ali Center.
To say Louisville has been influential in the American cultural landscape is an understatement.
But Louisville is also facing serious challenges. Its low- and moderate-income communities don't have the same access to opportunities as higher-earning areas. Many of the city's underserved residents are unaware of career pathways—especially for in-demand sectors like technology—that are available to them. And, even when they do know about these opportunities, many residents face significant barriers to the health, education and social services that they need to achieve lasting financial stability.
But in the true spirit of Louisville, the city isn't backing down from the challenge. A coalition of Louisville's nonprofit, public and private sector leaders recently applied for—and won— $3 million from JPMorgan Chase's AdvancingCities Challenge, an annual competition to source innovative and sustainable solutions to address the most persistent problems facing communities.
They plan to chip away at this problem by getting the community involved. Louisville's city leaders understand the need to engage local communities early in economic decision making. That's why the city's new Digital Inclusion and Economic Resilience initiative is working diligently to activate community support, which happens to be one of JPMorgan Chase's 7 traits of Advancing Cities.
In a new pilot program, Digital Inclusion and Economic Resilience will help more than 3,500 underserved households access to the skills training they need to compete for jobs. But obtaining the skills is only half the battle: even if residents get the resources they need to land a job, they may also need other services to help them ensure their lasting stability. For example, what if a participant lands a job, but can't find the transportation they need to get to work every day?
With that in mind, Digital and Economic Resilience will also identify other social service providers in the city, and connect participants to the financial and social services that they need to get to work—and build stable lives. It's a win-win.
Louisville is a prime example of what the investments from the AdvancingCities Challenge are meant to do: develop local solutions, break down existing silos, and create more widely-shared prosperity. Louisville is one of the five inaugural winners of JPMorgan Chase's AdvancingCities Challenge and was hand selected from more than 250 proposals across 143 communities.
Partnership is the secret to success in the Derby City. And with the support of their winning community, Louisville will be back on track in no time.
---
The organizations behind Digital Inclusion and Economic Resilience include Metro United Way of Louisville, Goodwill Industries of Kentucky, The Greater Louisville Workforce Development Board (KentuckianaWorks), Russell: A Place of Promise, Catholic Charities, AMPED, One West, Evolve502, and the Commonwealth Institute of Kentucky at the University of Louisville.
This is part of a five-part series on the inaugural winners of JPMorgan Chase's AdvancingCities Challenge. To learn more about AdvancingCities visit here. To learn more about the firm's 7 Traits of Advancing Cities, visit here.