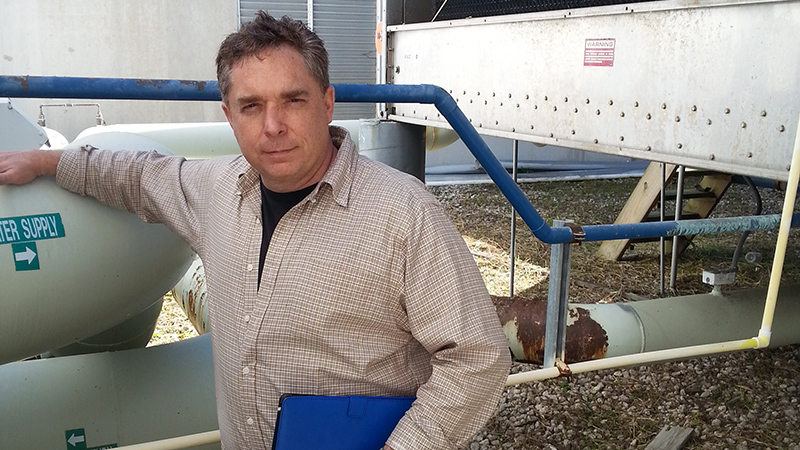 Stories
A Veteran Entrepreneur's Next Mission: Breathing Easy
For Nashville's Clayton Poff, a harrowing brush with airborne contaminants led to a lifelong mission: Improving the health of buildings and the people who work in them. Here's how he got started—and how JPMorgan Chase is helping
Clayton Poff was sick. Every Monday he showed up to ready to work at his job as a facility manager and electrician in Memphis, but as the week wore on, he would become tired and sluggish.
"By Friday I was almost passing out on my three mile drive home," he recalls. "I was completely wiped out. I thought I was coming down with the flu."
On Monday morning, he'd feel better, but then the symptoms would return. After about six months, the cycle got worse and he noticed he was slurring his words.
After visiting an allergy doctor, he found out he had mold in his lungs and bloodstream. It took him three years to fully recover—and by the time the illness had run its course, he had lost two years of his memory.
A Hidden Danger
There was no question where Poff had encountered the mold: He was responsible for maintaining 119 HVAC units and six air handlers. To improve their efficiency, he had cleaned out each unit thoroughly—exposing himself to years' worth of collected contaminants—and a mold infection.
This wasn't the first time he had put his health on the line to protect those around him. A former Corporal and Fire Team Leader in 3/8 Marines Kilo Raiders, he participated in numerous missions, including the evacuation of Americans and other foreign nationals from the US embassy in Liberia during the country's first civil war.
After he left the Marines, Poff returned to Tennessee and found work as a facilities manager, where he contracted his illness. That set him on his next path: installing HVAC systems that would help improve buildings' air quality while reducing their operating costs. In 2008, he opened his own company, Energy Cost Reducers, but he later renamed it to better represent its mission. His wife came up with "Pure Light Clean Air."
Entrepreneurs in the Trenches
Poff's business grew steadily, until he was working on over 250 buildings around the country. But then it hit a plateau. He knew if he wanted to take Pure Light Clean Air to the next level, he had a lot to learn about scaling up his company.
In 2018, he found out about Bunker Labs, a national nonprofit dedicated to helping veteran entrepreneurs start and grow their own businesses. Through Bunker, he was able to take business classes, and soon learned how to track his company's performance, market it to the right people, manage his staff and increase his efficiency.
Perhaps most importantly, Poff found a community of fellow veteran business owners who had also taken their military sense of duty into the private sector. "The best part for me was having that veteran camaraderie that I hadn't felt since being in the military," he says. "We served and now we're in the trenches together as entrepreneurs."
Taking His Message to the People
In the fall of 2019, Poff took part in Bunker Labs' Muster Across America Tour, supported by JPMorgan Chase. In addition to networking with possible investors and fellow entrepreneurs, he participated in a pitch competition, which gave him the opportunity to lay out his vision for Pure Light Clean Air, while warning the audience of the dangers of bad air quality.
Standing on the stage, he looked out on the people gathered before him. "Nobody thinks about clean air until somebody gets sick or dies," he began, reflecting back to his own illness.
The key to healthy buildings, Poff says, is ultraviolet (UVC) light. "There are no known pathogens that are resistant to a lethal dose of UVC germicidal energy," he says. Studies have shown that UVC-enabled HVAC systems can kill up to 98 percent of all airborne pathogens.
For Poff, all of this goes back to his mold infection—and to the sense of duty that originally drove him to join the Marines. "When I got sick, I thought, what can I do to make sure no one has to go through what I went through?" he recalls. The answer—fighting airborne contaminants—has not just given him a job, but also a new mission that continues to put his abilities and commitment to use.