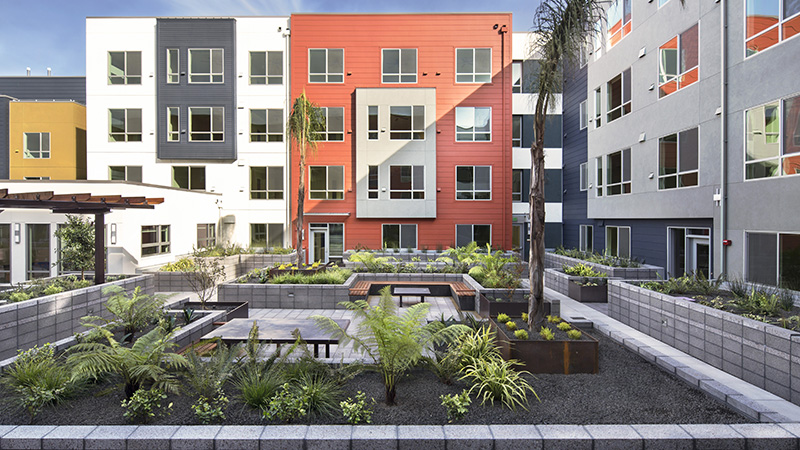 Stories
A Neighborhood Rebuilt, a Life Transformed
In the face of rising rents citywide, JPMorgan Chase partners to help build a stronger Bay Area for everyone.
San Francisco is one of the nation's most vibrant cities. And also one of its most expensive. The median rent on a one-bedroom apartment is a stunning $3,720, as compared to roughly $1,200 nationally. Even New York City, long famous for its astronomical rents, has a lower median rent—$2,940.1
Recognizing that such sky-high housing costs create enormous challenges for hundreds of thousands of long-time, lower-income residents, the City of San Francisco has launched an ambitious plan to create more affordable housing, starting with four troubled public housing developments.
The revitalization project, HOPE SF, aims to transform 750 units of public housing and create an additional 4,275 new public, affordable and market-rate apartments. To further support residents' economic stability and mobility, HOPE SF provides additional resources including gyms, parks and health care centers, as well as after-school programs for children and job training classes for adults.
One of those communities is the Alice Griffith public housing development in the Bayview neighborhood of southeastern San Francisco, which has already made tremendous strides. Before HOPE SF, and additional support including a commitment from JPMorgan Chase, the distressed apartments were virtually unsuitable for the families that lived there.
Committed to building a more equitable Bay Area, JPMorgan Chase provided more than $250 million in financing to not only replace 256 Alice Griffith units with modern buildings, but also add 248 units of affordable housing on the campus.
More than 80 percent of the families who lived in the old buildings have moved into the new buildings—an important indicator that residents haven't been displaced, and an impressive one given that the national "rate of return" for public housing residents after a rebuild is 25 percent.2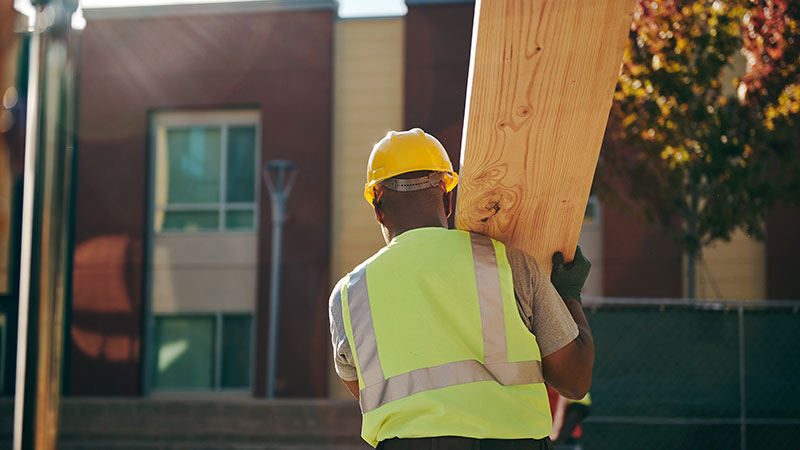 One of those returning residents is Yomo Shaw. Returning home at age 27 after a period of incarceration, Shaw moved into Alice Griffith. Determined to stay out of trouble, he got a job as an usher and maintenance person at the Palace of Fine Arts. He worked there for the next 16 years before enrolling in one of the job training classes available to him through HOPE SF. The classes are offered through the Partnership for HOPE SF, a collection of public, private, nonprofit and philanthropic organizations, including JPMorgan Chase. To date, the partnership has raised more than $17 million to provide educational programs to residents of four public housing developments, including Alice Griffith.
Through this job training, Shaw learned the necessary skills, and acquired the requisite certifications, to transition into construction work, ultimately becoming one of the first laborers hired for the rebuilding of the Alice Griffith apartments.
"We built those buildings from the ground up, from day one," says Shaw, who lives in one of the new units. Today, Shaw continues to work in construction and live in a stronger, healthier Alice Griffith community. As he explains, "It feels so great to have a nice place that I can afford."

Learn more about JPMorgan Chase's commitment to the San Francisco Bay Area.
---
1.
Zumper National Rent Report: July 2019. https://www.zumper.com/blog/2019/07/zumper-national-rent-report-july-2019
2.
Dineen, J.K. "Infusion of housing delivers hope to SF, helps families." San Francisco Chronicle. https://www.sfchronicle.com/bayarea/article/Infusion-of-housing-delivers-hope-to-SF-helps-13359551.php