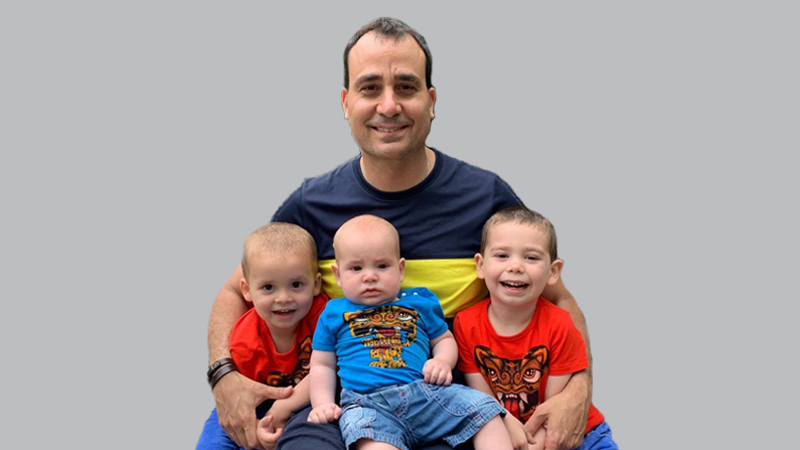 Stories
A Mix of Cultures: Mariano's Story
Mariano Bender's work with people across the U.S. and Latin America has showed him the value of diverse people and the importance of working toward a common goal.
Mariano Bender has been blending cultures for most of his life. Born in Argentina, he came to work with J.P. Morgan fifteen years ago, and moved to New York City in 2011. His wife is from Mexico, and their three sons were born in the U.S. "We are a truly Hispanic family in this country. A mix of cultures," he says.
Bender's love of different cultures has carried into his work, where he is Head of CIB Markets Technology LATAM and CIB Technology in the Latin America Branches. His work takes him across Latin America, where he works with J.P. Morgan teams in Argentina, Brazil, Mexico, Chile, Colombia, and Peru. "I enjoy a lot learning from our people—and their cultures—in the different countries where we work," he says.
Recently, Bender received the HITEC 50 award, which recognizes the 50 most influential and notable Hispanic professionals in the technology industry in Ibero-America. We met up with him to discuss the importance of this award to him at this time in his career.
What does this award mean to you?
It is an honor to be selected as one of HITEC 50 winners. I know that it is not easy to make the cut with so many talented Hispanics in Technology at J.P. Morgan and in other companies. It is especially meaningful to be recognized professionally as a Hispanic in the US.
Even though it feels like I've been in this country for a long time I am still learning what is to be Hispanic here and what it means to be part of a minority. J.P. Morgan is fully committed to creating a more diverse and inclusive workforce, but we have a lot more work to do. I hope this award can encourage other Hispanics in Technology to join J.P. Morgan and help us continue progressing towards that goal.
What does success look like to you?
Professionally, it means coming to work happy and motivated to deal with the challenges I have in front of me, and seeing the same in the members of my team. It means watching my team members grow and develop their careers and knowing that my stakeholders and colleagues appreciate the work we do and how we do it. On the personal side, it means raising a loving family that cares for each other and are great human beings.
Who has been the biggest influence in your life?
Personally, my parents have been certainly a key influence in my life. Not just because they were always there for me and very loving, but also because, through them, I learned a lot about resiliency and priorities when things don't go that well. Professionally, I have had many great managers in my career, but my first manager at J.P. Morgan in Argentina was committed to working with me to develop my potential and I will never forget him for that.
What do you consider the most valuable piece of advice you've ever received and where did it come from?
I had a friend who pushed me to take risks that were going to end up having a big impact in my personal life. He would say to me, "How do you know it is not going to work if you don't try?" Even though it sounds like simple advice, I value the conversations we had during my career that helped me change my perspective.
What brings you joy?
Being with my family and friends comes number one--especially playing with my three boys and just seeing them happy.