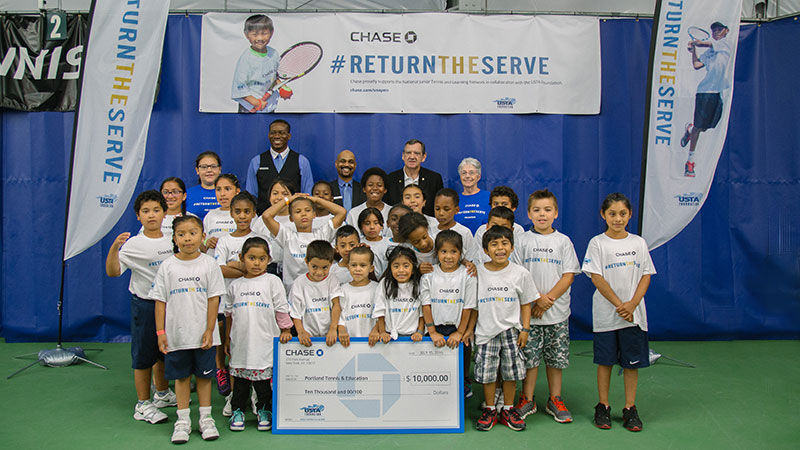 Stories
$100K Means Big Things for 20,000 Kids
Return the Serve: A $100,000 grant that allows 20,000 kids to participate in tennis programs throughout the year.
Rayleen Esparza learned the benefits of tennis firsthand last summer as a 13-year-old from East Los Angeles. Her tennis skills and academic performance earned her an once-in-a-lifetime chance to fly to New York and hit tennis balls with Serena Williams on the US Open courts. "It felt amazing getting a hug from the best player in the world," Rayleen said. "I'm going to remember this forever."
This experience was part of the Return the Serve initiative. For the third consecutive year, we are partnering with the USTA Foundation, the national charitable organization of the United States Tennis Association (USTA), to bring tennis and education together to change lives of under-resourced youth across the country.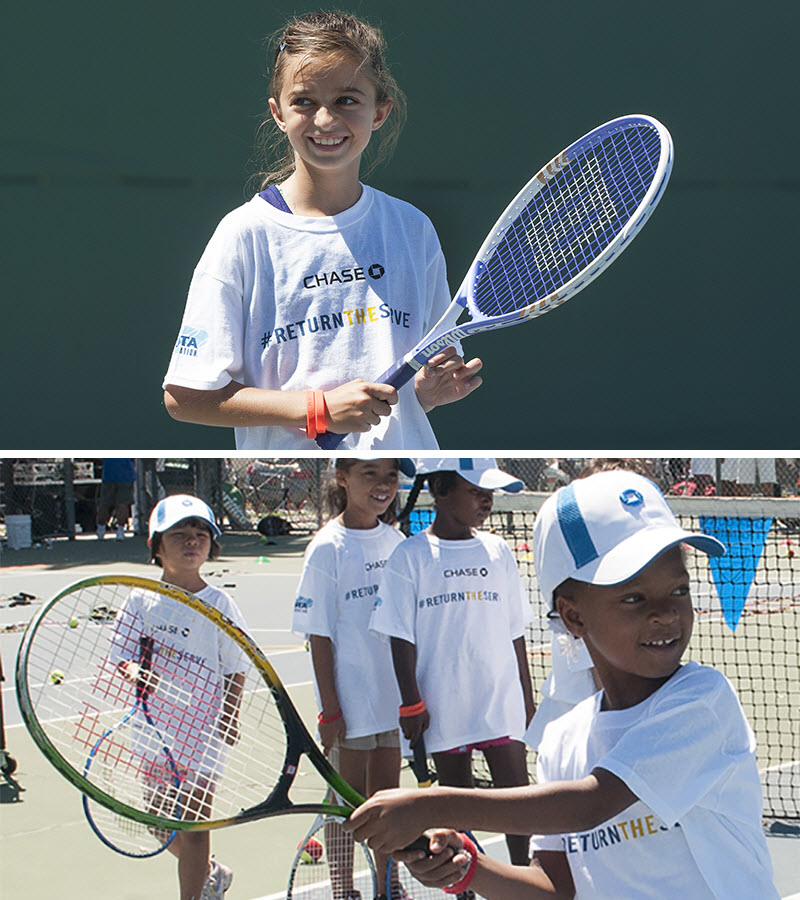 "What better way to show that JPMorgan Chase cares than to provide kids in these communities with a way to have fun and learn through tennis and education. Creating a spark for so many children will help them for a long time in areas far beyond tennis."
Barbara Paddock, Managing Director, Sports & Entertainment Marketing
Return the Serve supports nearly 20,000 children participating in National Junior Tennis & Learning (NJTL) network programs. In 2016, we pledged a $100,000 grant distributed in the form of $10,000 each to 10 participating NJTL chapters during #ReturnTheServe Fun Day on July 15th. The fund goes to help year-round tennis and education programming that engages kids in the A.C.E. curriculum (Academic Creative Engagement).
#ReturnTheServe Fun Day included a variety of tennis-related activities for the youth participants from underserved communities along with their families. It kicked off in 10 cities including New Orleans, San Francisco, Dallas, Houston, Portland, Chicago, Los Angeles, Jacksonville, New York and Washington, D.C.
"The USTA Foundation is proud to once again partner with Chase to award 10 of some of our very-deserving NJTL chapters with these generous grants," said Dan Faber, Executive Director, USTA Foundation. "We commend them for giving back to thousands of NJTL participants through the #ReturnTheServe Fun Day that will surely bring a lasting impact to the lives of so many."
---
Learn more on how we are giving back through our US Open sponsorship, click here.
For more information on #ReturnTheServe Fun Day, click here.
To learn more about the USTA Foundation, click here.